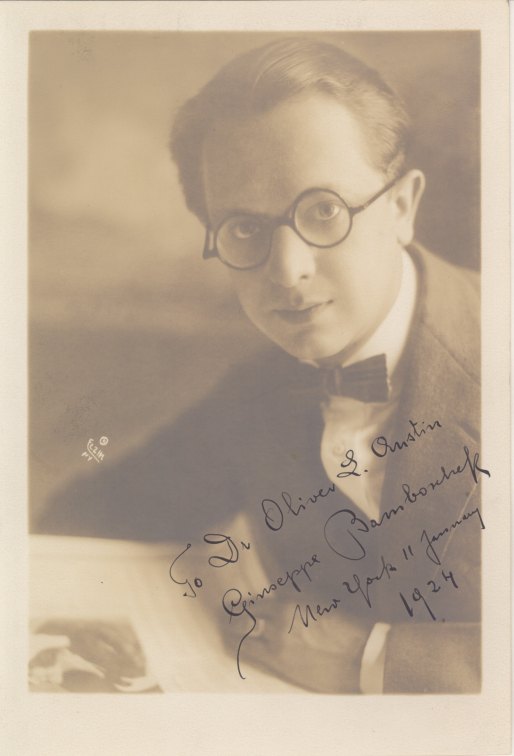 Click Image to Zoom
Enlarge Image
Bamboschek, Giuseppe (1890-1969)
Photograph Signed
"Giuseppe Bamboschek". Total measurement of 10.75" h x 7.25". Fine condition.
Soft-toned sepia print of a youthful portrait of Italian conductor Giuseppe Bamboschek, inscribed to Dr. Oliver L. Austin, dated Jan. 11, 1924, New York.
Giuseppe Bamboschek began conducting while still in his teens, after establishing himself as a pianist and an organist. As a conductor, he spent 16 seasons at the Metropolitan Opera between 1913 and 1929, where he led performances featuring the great singers of that period, and even made an appearance onstage in 1918, as the accompanist in the world premiere of Charles Wakefield Cadman's one-act opera The Robin Woman: Shanewis. Bamboschek had a long and meaningful career, later presenting and conducting opera in Philadelphia. He was mentor to a diverse array of artists, giving Beverly Sills her first break as a singer in 1947. He later pioneered the presentation of opera on television with a series called Opera Cameos.
ALS-07788
$75