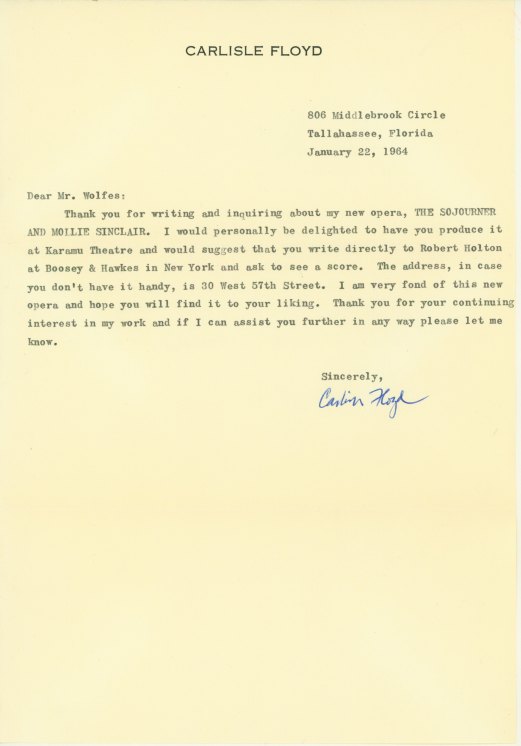 Click Image to Zoom
Enlarge Image
Floyd, Carlisle (1926)
Typed Letter Signed
"Carlisle Floyd". To Mr. Helmuth Wolfes. Tallahassee, FL, January 22, 1964. 10.25" h x 7.25" w. 1 p. Includes original envelope. Excellent condition.
Carlisle Floyd, considered by many as the most important American opera composer and librettist in our nation's history, responds to an inquiry from a producer about his new opera,
The Sojourner and Mollie Sinclair
, writing that he
would personally be delighted to have you produce it at Karamu Theatre and would suggest that you write directly to…Boosey & Hawkes in New York and ask to see a score…I am very fond of this new opera and hope you will find it to your liking.
The inquirer, Helmuth Wolfes, conducted the Berlin State Opera before moving to America to conduct the City Center Opera in New York.
The Sojourner and Mollie Sinclair is about Scottish settlers in the Carolinas. Floyd composed it in 1963, shortly before this letter was written. His other well-known operas include Susannah (1955), Wuthering Heights (1958), and Of Mice and Men (1969).
ALS-07280
$175