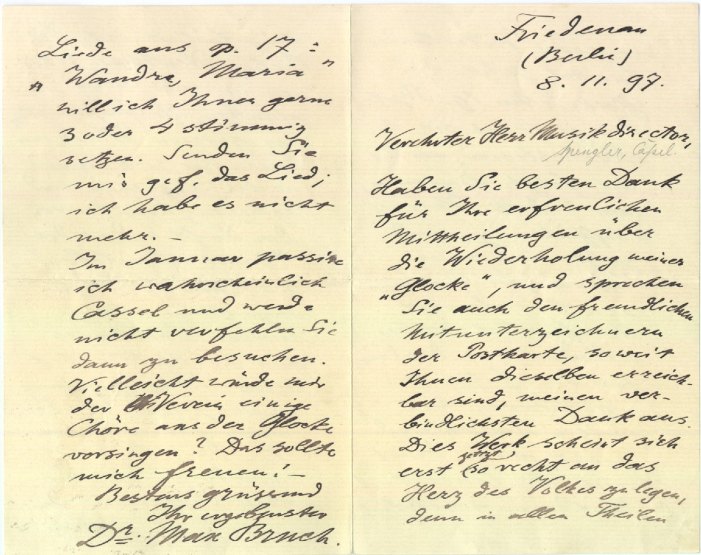 Click Image to Zoom
Enlarge Image
Bruch, Max (1838-1920)
Autograph Letter Signed
"Dr. Max Bruch". To "Herr Musik Director Lorenz Spengler". Berlin, Nov. 8, 1897. Four pages of a folded sheet, with envelope. Fine. With full translation.
A good letter with musical content about various performances and a rehearsal of Das Lied von der Glocke. Bruch writes that this work now seems at last to touch the heart of the people, for the bell now sounds in all parts of the fatherland. He mentions other performances and complains: one fact is unpleasant, namely, that the author does not get anything from it because Germany, unlike France, has no laws covering performance rights. The dear Germans still believe that the composers of the great works, which they always enjoy and by which they feel inspired, can live exclusively on air and art! Bruch notes that he has sent along some of his choral pieces for the library of the church choir and will also be happy to set for Spengler the refrain in the old song from op. 17, "Wandre, Maria" for 3 or 4 voices.
Bruch writes from Berlin, where he was given the title of Professor at the Berlin Academy in 1891 and taught until his retirement in 1910 (becoming Vice President after Joachim's death in 1907). Das Lied von der Glocke (1879) is an oratorio for solo voices, chorus, orchestra, and organ based on a poem by Schiller. During the composer's lifetime it was his output of secular choral works, rather than his operas, that were considered his finest compositions.
ALS-07224
$750