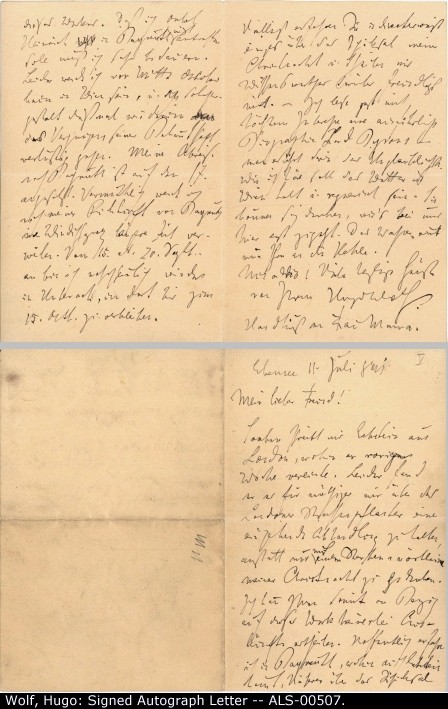 Click Image to Zoom
Enlarge Image
Wolf, Hugo (1860-1903)
Autograph Letter Signed
July 11, 1891. Very good. With translation.
A wonderful letter to an anonymous correspondent asking for information about the recent performance of Christnacht:
"Eckstein just wrote to me from London to which he traveled last week. Unfortunately he considered it more urgent to give me a detailed lecture on the pavement in London rather than referring to my Christnacht with even a word."
Wolf goes on to describe his plans to be in Bayreuth, Vienna, etc. and concludes, "perhaps you learn indirectly something about the fate of my Christnacht and kindly share with me anything worth knowing."
Wolf started on Christnacht, a work for soloists, chorus and orchestra, on Dec. 24, 1886. He described the work as "uniting two aspect of the Christ child: naive and childlike, yet conquering and redemptive". When he started it in 1886, Wolf was still struggling for recognition as a composer, but by the time he completed it, in 1889, he had already written his popular "Italian Serenade" and was considered a master songwriter.
ALS-05494
$4,500