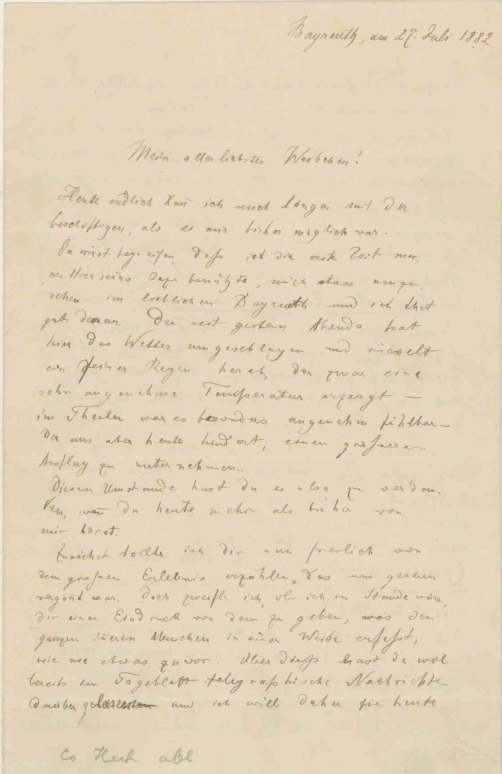 Enlarge Image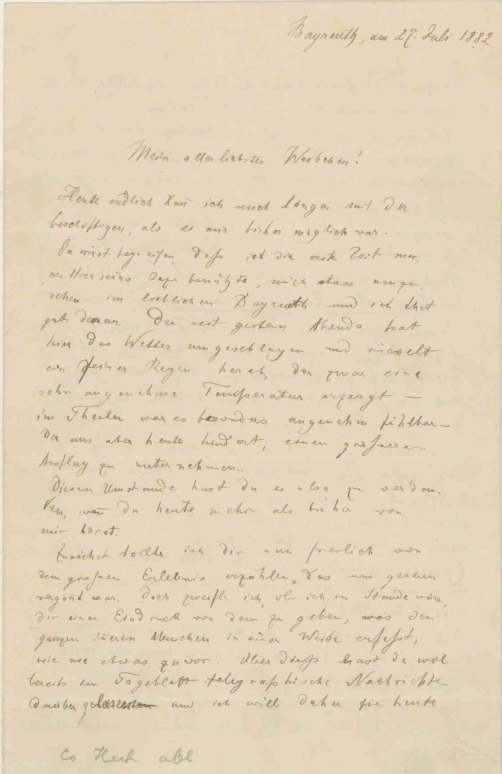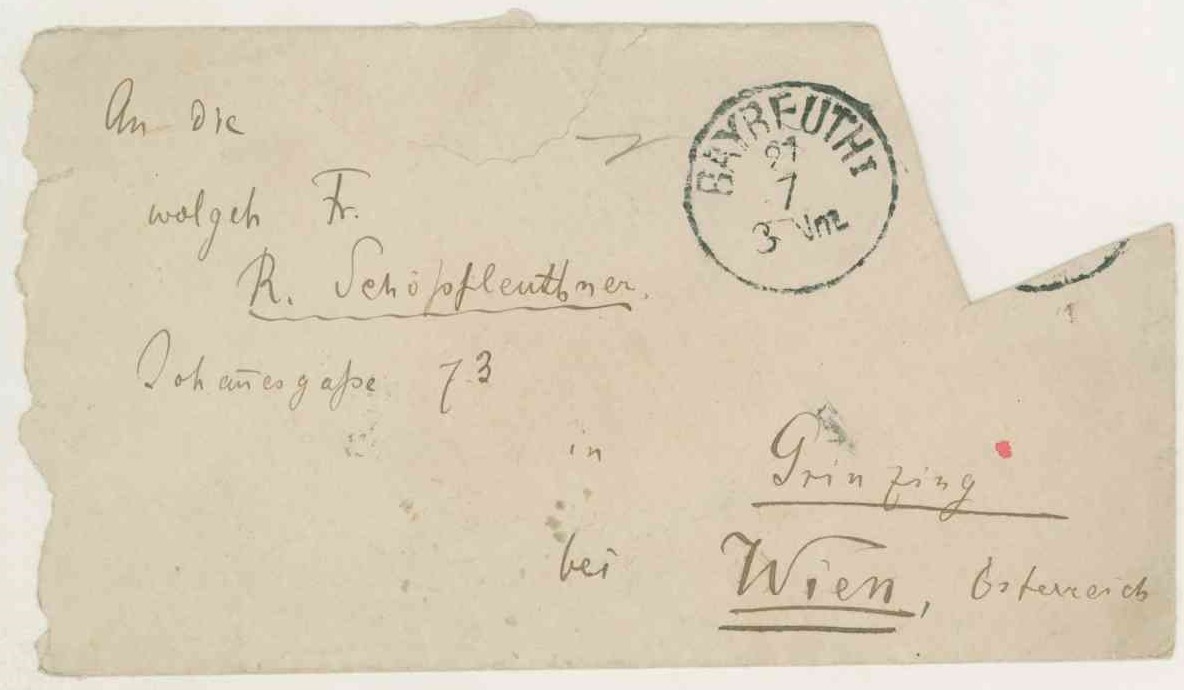 WAGNER - PARSIFAL - LETTER FROM PREMIERE ATTENDEE
Autograph Letter.
Bayreuth, July 27, 1882. Octavo. Four pages of a folded sheet with envelope. With full German transcription and English translation. In excellent condition. Typical folds; envelope missing top right corner.
Writing to his wife from Bayreuth just one day after the premiere of Parsifal, a Herr Schöpfleuthner recounts his experience at the theater and describes a chance encounter with Wagner.
Schöpfleuthner begins with a brief but powerful reference to the premiere: First I should tell you about the great event with which we were honored yesterday -- but I doubt that I am capable of giving you a true impression of an occurrence, which has gripped one's entire soul in such a manner as has never happened before.
After a few lines spent longing for his wife's soup and Austrian beer, Schöpfleuthner offers his impression of Wagner, having met him days before on the street: …Since he noticed that we were preparing to greet him, he stopped us with the words: "Let me be, I am a pour soul," at which he acted like such an amiable old man as I would never have thought possible. He also notes that same warmth of character was present in the great composer during the intermissions of Parsifal the previous night.
Schöpfleuthner continues about the difficulties of being a Parsifal attendee, purposefully noting details that he does not think the Austrian papers will include in their reports: Today's mail I received while I was still in bed, as Parsifal lasts from 4pm until 10:30, thanks to the long intermissions, which one spends outdoors. The performance is followed by a visit to the local tavern, so the evening is not over until 1:30am.
In his closing paragraph, Schöpfleuthner notes that so
many men of magnitude
are present for the occasion that he
does not want to enumerate them
. He makes two important exceptions, however. First, he notes the conspicuous absence of German conductor Hans Richter. Second, and rather comically, he celebrates that the prominent Viennese music critic Ludwig Speidel
forced his company on us twice, but was rooted out once and for all
. (One assumes that Speidel's negative appraisals of Wagner's music, which often put him at heated odds with Wagner's supporters, were the source of Schöpfleuthner's disdain).
For the first twenty years after its premiere, Parsifal was only performed at Bayreuth: Wagner wanted to ensure that the opera would only be produced in the way he originally envisioned it. He also believed that the work could provide a steady income for his family after his death if audiences had no choice but to visit Bayreuth to see it.
ALS-05490
$1,500