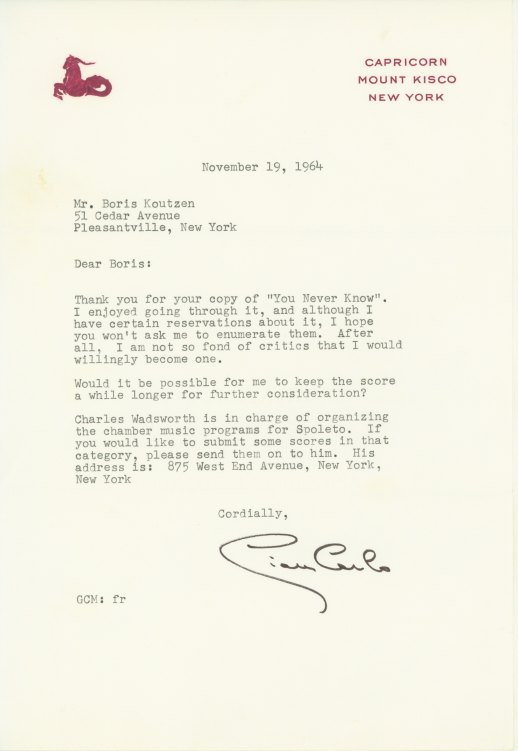 Click Image to Zoom
Enlarge Image
Menotti, Gian Carlo (1911-2007)
Autograph Letter Signed
"Gian Carlo". To Boris Koutzen. Mount Kisco NY, Nov. 19, 1964. Quarto. 1 p. on Capricorn Letterhead. Excellent condition with normal letter folds.
"Thank you for your copy of You Never Know. I enjoyed going through it, and although I have certain reservations about it, I hope you won't ask me to enumerate them. After all, I am not so fond of critics that I would willingly become one. Would it be possible for me to keep the score for a while longer for further consideration?" Menotti concludes by directing Koutzen to Charles Wadsworth regarding the submission of works to the Spoleto Chamber Music Festival.
Menotti founded the noted Festival dei Due Mondi (Festival of the Two Worlds) in Spoleto in 1958 and its American counterpart, Spoleto Festival USA, in 1977.
Boris Koutzen was a violinist under Koussevitsky in Moscow and later under Stokowski in Philadelphia and in the NBC Orchestra under Toscanini.
ALS-05436
$300