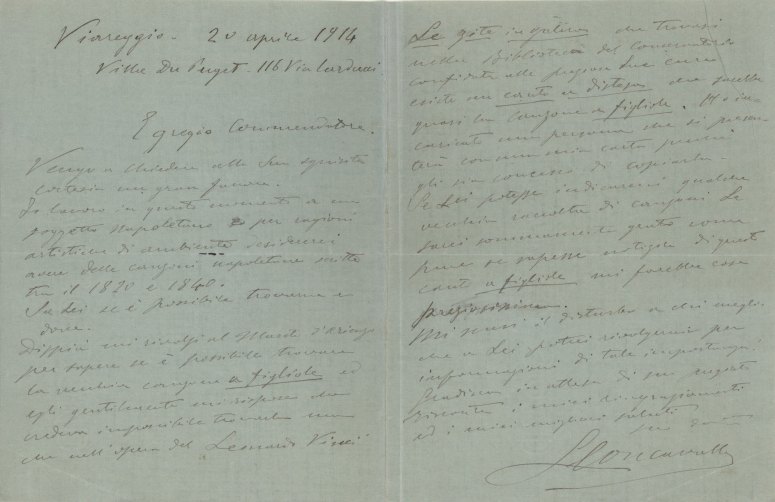 Click Image to Zoom
Enlarge Image
Leoncavallo, Ruggero (1857-1919)
Autograph Letter Signed
"Leoncavallo". To Rocco Paglietti. Apr. 20, 1914. 2 pp. on light blue paper, with envelope. Crease on upper right, ink quite pale, otherwise very good condition. With translation.
Leoncavallo has sent a registered letter to the librarian at the music conservatory in Naples requesting help in tracking down some Neapolitan songs:
"At the moment, I am working on a Neapolitan subject. For artistic reasons concerning the ambience, I should like to have Neapolitan songs written between 1820 and 1840. You will know whether it is possible to find them and where."
He continues that he is interested specifically in finding the song, "A figliole" which is possibly from Leonardo Vinci's opera Le zite 'n galera (Spinsters in jail, 1722).
It is unclear from the context of the letter which stage work Leoncavallo was working on. Of the three stage works he produced in this period, the opera Goffredo Mameli (1916) is an unlikely candidate since it is not a Neapolitan subject. He is more likely referring to either La candidata (1915, Rome) or Prestami tua moglie (1916, Montecatini).
ALS-05416
$850