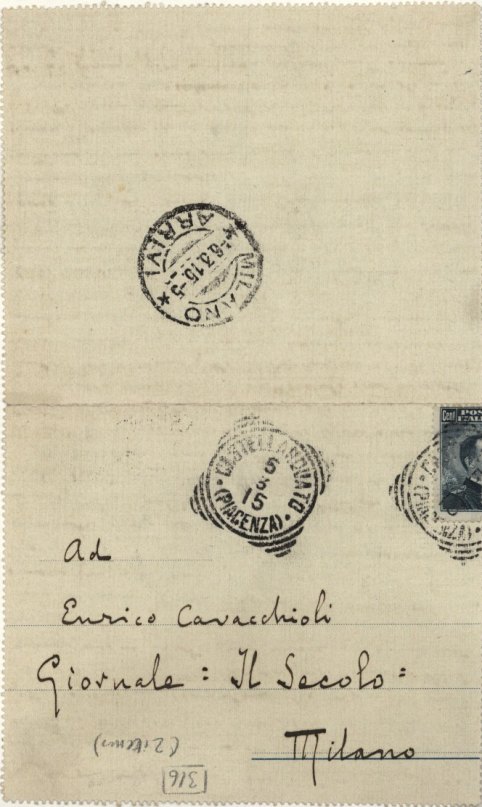 Click Image to Zoom
Enlarge Image
Illica, Luigi (1857-1919)
Autograph Letter Signed
"Illica". To "Enrico Cavacchioli". Postmarked Mar. 5, 1915. One page "mailogram". Fine condition. With translation.
The noted Italian librettist writes a detailed, amusing and scathing letter to Enrico Cavacchioli, editor of the newpaper "Il Secolo" (Milan), discussing his thoughts on Giordano's opera "Madame Sans Gêne" (1915). He begins his letter: "May your good Livorno god hang you! I have twice written to you and you have never replied. If Napoleon had not been made a cuckhold -- to go back to the origins of great historical facts -- by Maria Luisa probably, who knows when I would have had your news...." "I do not know a note of 'Sans Gêne'; if you remember when [Renato] Simoni was in Japan I was to have collaborated on it, however, I said right from the beginning that the subject did not appear to me a likely one musically -- meaning impossible....Setting it to music was not a question of a 'success' opera more or less, but of a 'type' opera and a 'type' opera nowadays is a nightmare to plan..." Illica goes on at length justifying his original opinion, which he observes was shared by several critics. He also gives the news that Leoncavallo has dislocated his arm.
Noted Italian librettist Luigi Illica wrote the text for Catalani's "La Wally", and also worked with Giordanoand Mascagni. But his most significant contributions were as the librettist for all of Puccini's major operas. Obviously, as seen in this letter, Illica did not write the libretto for Giordano's "Sans Gêne," although he did write librettos for other Giordano operas, most notably "Andrea Chénier" (1896).
ALS-05410
$850