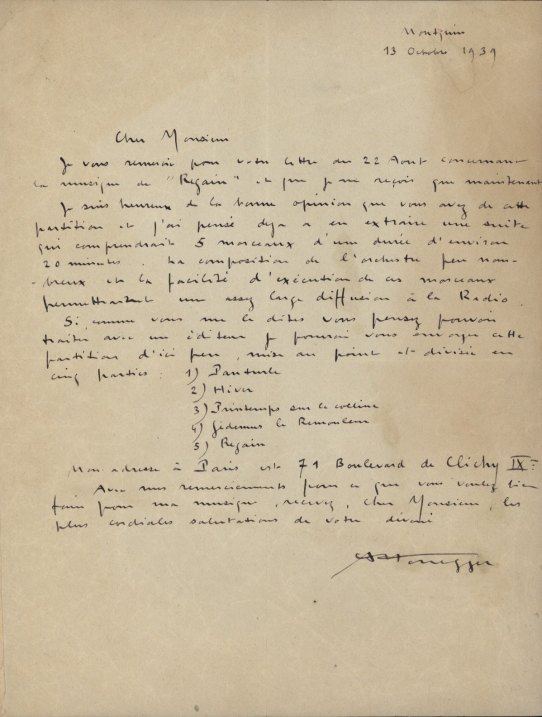 Click Image to Zoom
Enlarge Image
Honegger, Arthur (1892-1955)
Autograph Letter Signed
"A Honegger". Oct. 13, 1939. 1 p. A bit toned, quite rumpled and creased, but otherwise fine - overall attractive in appearance. With translation.
Honegger thanks the recipient for his letter concerning the composer's
Regain,
a film score for orchestra which he had written two years earlier.
I am happy about the good opinion you have of this score and have already thought of extracting from it a suite which would have five pieces and last about 20 minutes. The small orchestra and ease of performance of these pieces would permit a rather wide distribution on the radio.
If, as you have told me, you think you could find a publisher, I could send you this score very soon, well-prepared and divided in five movements.
1. Le Panturle
2. Hiver
3. Printemps sur la colline
4. Gédémus le rémouleur
5. Regain
Honegger concludes his letter
With my gratitude for what you want to do for my music…"
The final suite actually added a sixth movement at the beginning, Nuit dans la grange - Été.
ALS-05408
$500