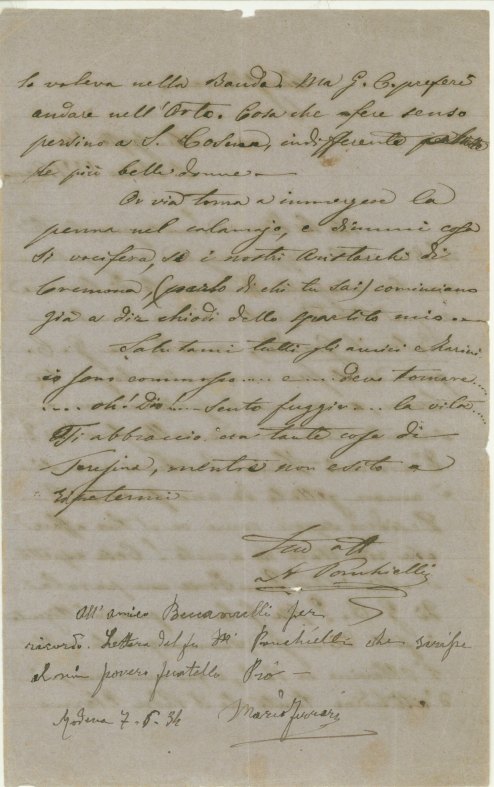 Enlarge Image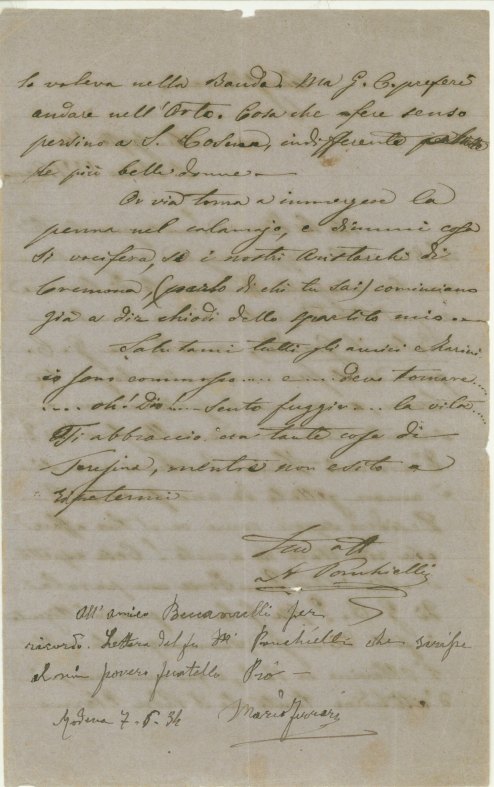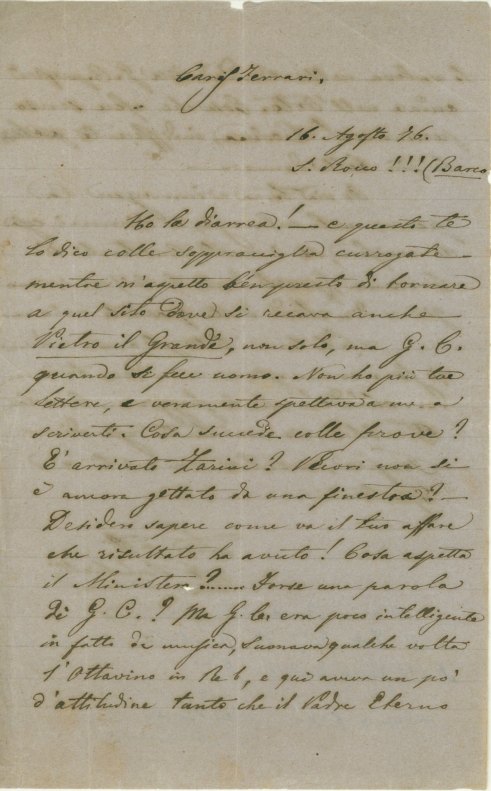 Ponchielli, Amilcare (1834-1886)
Autograph Letter Signed
"A. Ponchielli". To "Ferrari". Barco, Aug. 16, 1876. Two sides of a single sheet. Fine, though delicate. Light bleedhthrough with pinhole near bottom. Full translation.
An hilarious letter from the composer of I promessi sposi.
This delightful letter opens with a humbling account of recent poor health: I have diarrhea!--and I tell you this with wrinkled brows while waiting to return quickly to that seat to which betook himself also Peter the Great, not he alone but also Jesus Christ when He made Himself man. After a comic assessment of Jesus's musical abilities, Ponchielli asks Ferrari to go immerse your pen in the inkwell, and tell me some rumor, whether our Aristorichies of Cremona (you know of whom I speak) has already begun to say insolent things about my piano score. Greet for me all the friends and Zarini. I feel moved...and...I must return...oh! God!...I feel escaping...my life...
Mario Ferrari, brother of this letter's recipient, has penned a short note beneath Ponchielli's signature, dated June 7, 1934 . Evidently he gifted the page to his friend Beccavirelli: A letter by the deceased Ponchielli who wrote it to my poor brother.
Amilcare Ponchielli was an Italian bandmaster, orchestra conductor, and opera composer, best remembered for the four-act melodramma I promessi sposi. The conventionality of the melodramma's score, which attracted members of the Italian anti-Wagner movement, contributed greatly to its initial success.
ALS-01712
$1,000