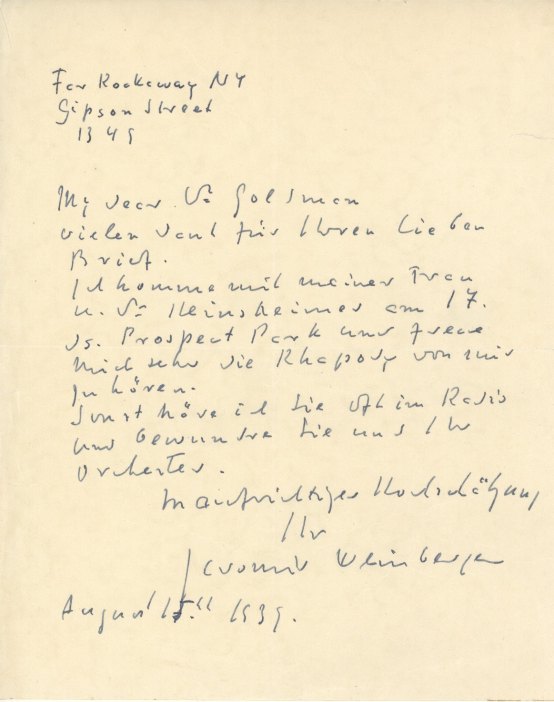 Click Image to Zoom
Enlarge Image
Weinberger, Jaromir (1896-1967)
Autograph Letter Signed
"Jaromir Weinberger". To "My dear Sr. Goldman". Aug. 15, 1939. 1 p. Fine condition. With translation.
Weinberger writes in German (and some English) that he will,
"...come with my wife and Mr. Heinsheimer on the 17th of this month to Prospect Park and anticipate with great pleasure hearing my Rhapsody."
"I hear you often over the radio and admire you and your orchestra."
The Czech American composer Jaromir Weinberger was best known for his 1927 opera Švanda dudák (Svanda the Bagpiper, in German Schwanda der Dudelsackpfeifer), the first Czech opera since Smetana's Bartered Bride and Dvorak's Russalka to be widely performed internationally. Weinberger is certainly writing to Edwin Franko Goldman, the famous American conductor and band leader, and is probably referring to his Mississippi Rhapsody for concert band. The Mr. Heinsheimer Weinberger refers to is Hans Heinsheimer, the New York publisher and editor.
ALS-01410
$200