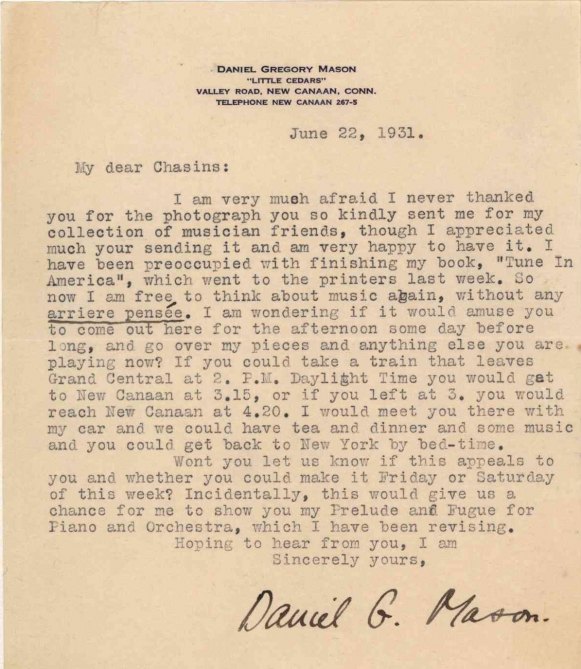 Click Image to Zoom
Enlarge Image
Mason, Daniel, G. (1873-1953)
Typed Letter Signed
"Daniel G. Mason". June 22, 1931. Small octavo. 1 p. on letter head. In excellent condition with typical horizontal fold.
Mason writes to the American composer and musicologist Abram Chasins to invite him for tea and dinner and some music. Having just sent his book, Tune in, America, to the printer, Mason looks forward to reconnecting with his friends now that he is free to think about music again.
The composer and author Daniel Gregory mason was the son of Henry Mason (a co-founder of the Mason-Hamlin piano company), nephew of pianist-composer William Mason, and grandson of pioneer music educator Lowell Mason. In his book Tune in, America, Daniel Gregory Mason advocates for the development of a distinct American musical language and criticizes foreign-born conductors, like Toscanini, for omitting American works from their programs. Mason frequently wrote on music and could be quite controversial with his opinions, once calling American composers polyglot parrots.
ALS-01345
$150