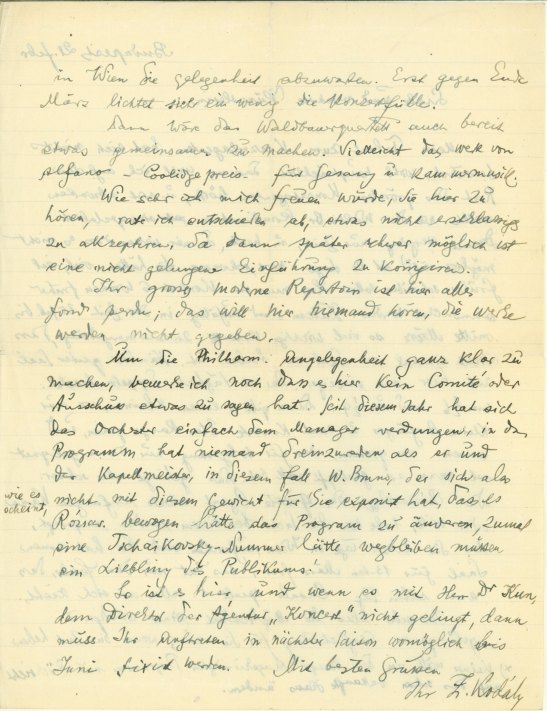 Enlarge Image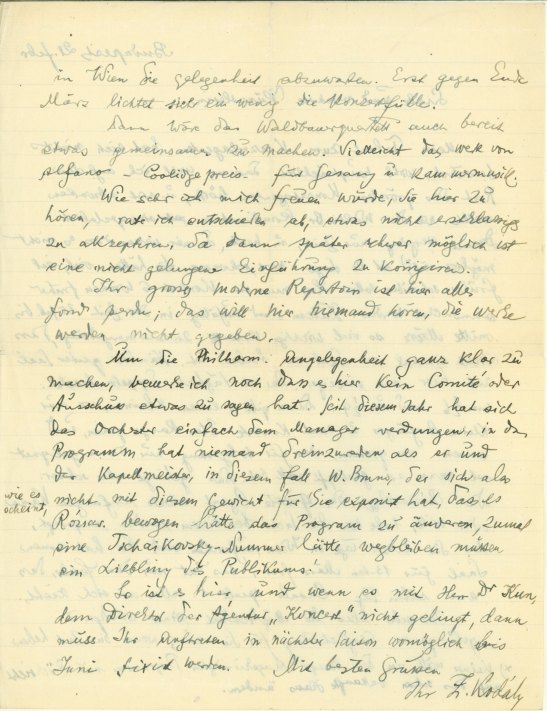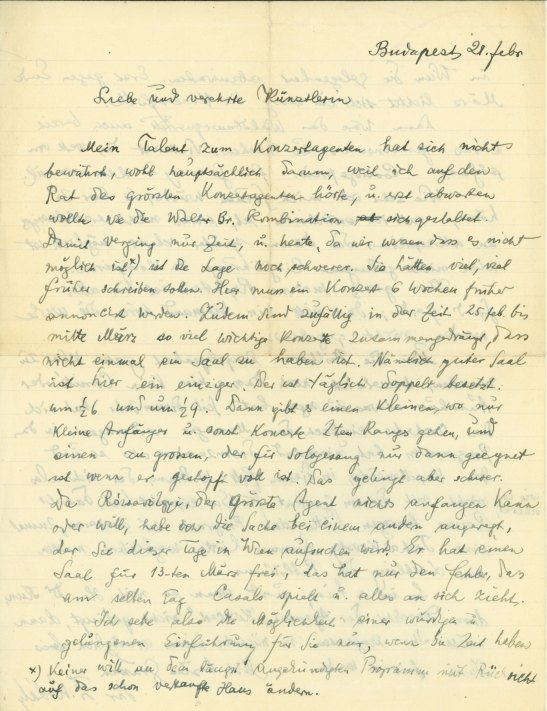 Kodály, Zoltán (1882-1967)
Autograph Letter Signed
"Z. Kodály". To Marya Freund. Budapest, Feb. 21, 1928. Two sides of a lined sheet. In German. Fine, though a little delicate. With full translation.
No one wants to hear modern music.
In a long letter, the Hungarian composer relays the impossibility of scheduling a performance for Freund in Budapest before the end of March, explaining that you really should have written much, much earlier. Here concerts must be announced six weeks in advance. He discourages the singer from performing in the city on March 13, even though a hall is available, because the public will undoubtedly be more tempted by a Casals concert that evening. Kodály also bluntly states that once the concert is scheduled, a great program of modern music would not be possible. No one here wants to hear that and the works are not given. Kodály closes with: In matters of programming no one has any say but the manager and the conductor, in this case W. Bruno...did not use his influence in your favor (or so it appears).
The Polish soprano Marya Freund (1876-1966) lived in Paris and specialized in twentieth-century repertoire. She was a close friend of many composers, including Schoenberg, Poulenc, Ravel, Dallapicola, and Milhaud. Kodály wrote her this letter during a particularly eventful period of his career: the premiere of his Singspiel Háry János in 1926 was highly successful, and a suite made of its most popular parts shortly thereafter was programmed by noted conductors Toscanini, Mengelberg, and Furtwängler.
ALS-01336
$900