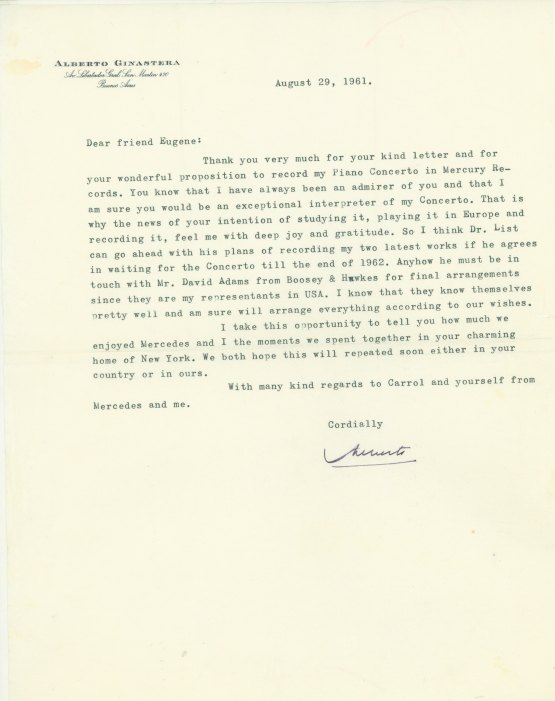 Click Image to Zoom
Enlarge Image
Ginastera, Alberto (1916-1983)
Typed Letter Signed
"Alberto". To "Eugene". Buenos Aires, Aug. 19, 1961. One page of personal airmail stationery. Excellent (the usual folds & one very slight nick at right margin).
The noted Argentinian composer writes enthusiastically in English about an offer to record his work: Thank you very much...for your wonderful proposition to record my Piano Concerto in Mercury Records. You know that I have always been an admirer of you and that I am sure you would be an exceptional interpreter of my Concerto. That is why the news of your intention of studying it, playing it in Europe and recording it, feel [sic] me with deep joy and gratitude. He sends regards from himself and his wife to both List and his wife (the violinist Carrol Glen).
The recipient of this letter is the noted American pianist Eugene List. List was at the forefront of the Gottschalk revival, but his repertory also included contemporary music, as evidenced by his interest in Ginastera's newly composed concerto. His international fame was secured when, as a sergeant in the American Army, he was chosen in 1945 to play at the Potsdam Conference at Yalta for Truman, Churchill, and Stalin. American newspapers noted proudly that Truman turned pages for him.
Concertos make up a sizable portion of Ginastera's output. Brazilian pianist João Carlos Martins premiered the Piano Concerto No. 1 in Washington, D.C. in 1961; its overwhelmingly positive reception helped to secure Ginastera's position on the international stage.
ALS-01314
$500