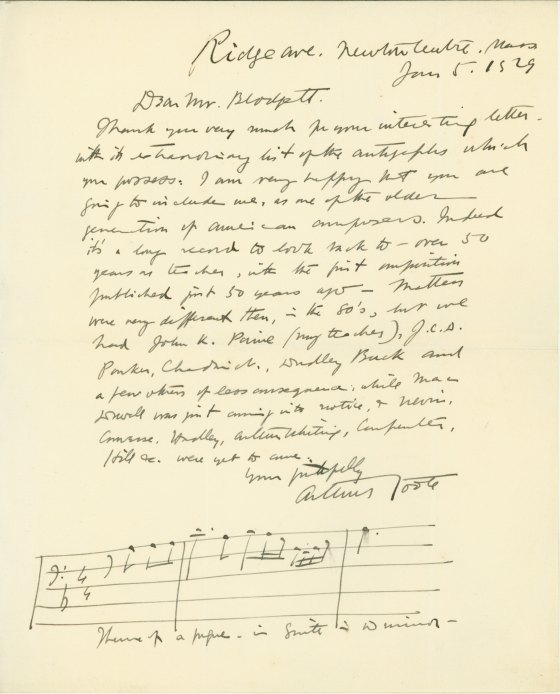 Click Image to Zoom
Enlarge Image
Foote, Arthur (1853-1937)
Autograph Letter with AMQ Signed
"Arthur Foote". To "Mr. Blodgett". Newton, Massachusetts, January 5, 1929. 9.75" h x 8" w. 1 p. In excellent condition with typical fold and small stain above signature (not affecting). Two original smudges to AMQ at bottom.
Foote writes a kind letter seemingly in response to a request from an autograph collector, briefly reflecting on his long career and other notable American musicians of his day:
Thank you very much for…[the] list of the autographs which you possess. I am very happy that you are going to include me, as one of the elder generation of American composers. Indeed it's a long record to look back to - over 50 years as teacher, with the first composition published just 50 years ago - Matters were very different then, in the [18]80's, but we had John K. Paine (my teacher), J.C.A. Parker, Chadwick, Dudley Buck and a few others of less consequence, while MacDowell was just coming into notice…Hadley, Arthur Whiting, Carpenter, Hill, etc. were yet to come.
Foote closes the letter with a three-bar quotation from his Suite in D minor.
Arthur Foote, John Knowles Paine, George Chadwick, Amy Beach, Edward MacDowell, and Horatio Parker comprised what music historians now call "The Boston Six", a group of composers who at the turn of the twentieth century began to develop a distinctly American style of classical composition.
ALS-01227
$500