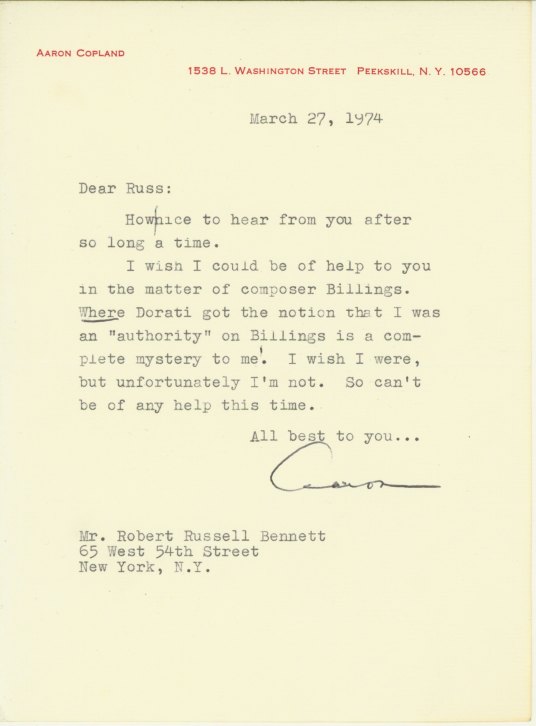 Click Image to Zoom
Enlarge Image
Copland, Aaron (1900-1990)
Typed Letter Signed
"Aaron". To Robert Russell Bennett. March 27, 1974. 7.75" h x 5.75" w. 1 p. on his letterhead. Fine.
Copland writes to fellow American composer Robert Russell Bennett in response to his request for information about early American composer William Billings: How nice to hear from you after so long a time. I wish I could be of help to you in the matter of composer Billings. Where [Antal] Dorati got the notion that I was an 'authority' on Billings is a complete mystery to me! I wish I were, but unfortunately I'm not. So can't be of any help this time.
Perhaps Antal Dorati assumed that any American composer would know about early American music -- and hence about William Billings (1746-1800) -- as a matter of course. Billings is generally considered the first great American choral composer.
Although Robert Russell Bennett was best known as a composer and orchestrator for Broadway and Hollywood, he also composed symphonic and chamber music and, along with Copland, had studied with Nadia Boulanger in Paris in the 1920s.
ALS-01205
$200