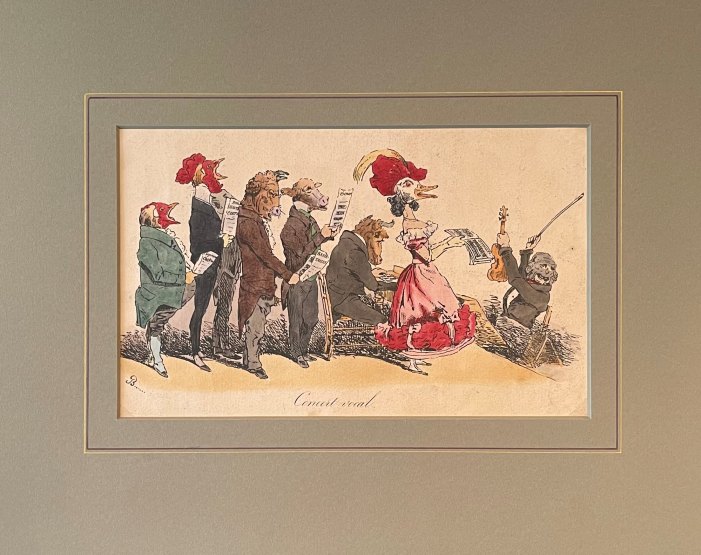 Click Image to Zoom
Enlarge Image
VOCAL CONCERT WITH BARN ANINMALS
Grandville, Jean-Jacques (1803-1847)
Concert Vocal.
Paris, mid 19th century. Total size in mat: 11.5" h x 14.5" w (29 cm x 37 cm). Total size of print: 5.75" h x 8.75" w (14.5 cm x 22 cm). In very good condition (just a bit dusty). Trimmed to image.
In this delightful hand-colored lithograph, a line of barnyard animals depicted with human bodies sings to the accompaniment of a ram pianist and a sheep conductor. Each singer holds music with a voice type printed at the top. The rooster at the back, whose music is marked Soprano Castro, has the typical protruding round belly of a castrato singer, and the bespectacled ram who sings the Basse Taille part holds his music at his waist, as though in an effort to see it more clearly.
Jean-Jacques Grandville was a famous French caricaturist. This lithograph comes from a seventy-print series entitled
Les Métamorphoses du jour
(1828-1829), in which Grandville shows animal-headed humans in humorous scenes. It was the work that put Grandville on the map and he was praised for his ability to capture human expressions on animal faces.
We do not believe this print is a first state, as it does not bear the names of the artist or lithographer.
GPH-15385
$225