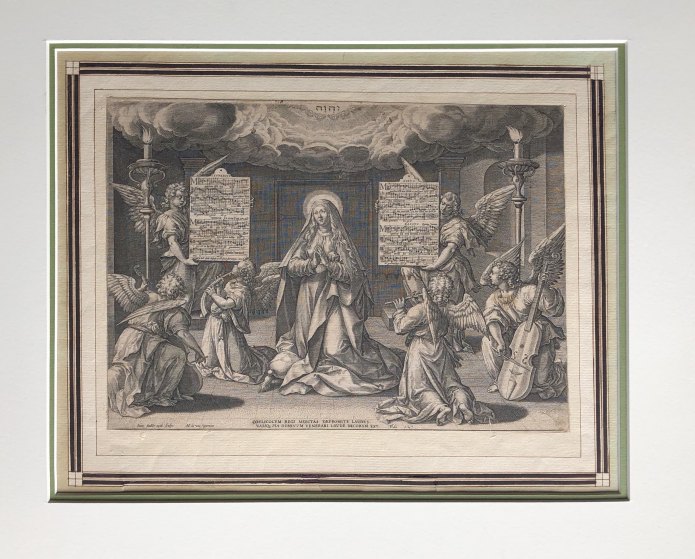 Click Image to Zoom
Enlarge Image
SIXTEENTH-CENTURY ENGRAVING WITH PICTURE-MOTET
Verdonck's Magnificat.
Jan Sadler, the elder (1550-1600) after Marten de Vos (1532-1603). Antwerp, early 1590s; likely second state. Total size in mat: 17" h x 20" w. Engraving trimmed to image and laid down on a sheet of laid paper with decorative black ink and green border. Print in very good condition with only very minor staining at top (in the clouds), a small squiggle and a stain on the right side and two small repaired tears at bottom right. Reinforcing sheet with some minor professionally repaired tears. A beautiful presentation in a double mat.
This early-issue picture-motet engraving after Martin de Vos (1537-1603)
incorporates into its design the full score of Cornelis Verdonck's (1563-1625) Magnificat motet
. The work has only survived because of its inclusion in this print, where it is notably displayed on two
cartelles
held up by angels on either side of the Virgin Mary as four other angels play the gamba, transverse flute, and cornetto at her feet. A verse from Psalm 147 is printed in Latin at the bottom.
Cartelles were erasable slate tablets that composers used to sketch and develop their musical ideas. Because they are infrequently depicted in iconography of the time and few have survived to the present day, their presence here is of significant historical interest.
Jan Sadeler (1550-1600) produced the first issue of this engraving in 1585 and is known to have made several copies in the 1590s. We believe this is a second state impression from the 1590s because of a corrected typo of sorts in the Psalm text: in the first state, the first word erroneously reads Selicolum, but has here been changed to Coelicolum (the Latin word for heavenly).
This engraving is a wonderful example of a picture-motet, or a devotional print that depicts angels and other biblical figures singing and playing from partbooks -- or in this unusual case, cartelles -- that show perfectly legible music. They may have been printed in support of the Catholic Counter-Reformation. Jan Sadeler was the creator of the picture-motet genre and its master exponent, producing the first one in 1584, with another work by Verdonck, and later working with various artists to produce other such engravings.
GPH-14414
$2,350