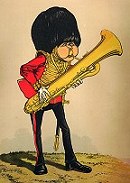 Click Image to Zoom
Enlarge Image
OPHECLEIDE - CARICATURE
Seccombe (Major), Thomas Strong
Chromolithograph Of An English Bandsman.
London, c.1876. Matted with a total size of 14" h x15.5" w (35.5 cm x 39.4 cm). Fine condition.
Chromolithograph caricature of a British bandsman wearing a bearskin headdress and playing an ophecleide, apparently with some difficulty. He appears to be standing on a hillock in full dress uniform. There is a separate companion sheet to this piece with its corresponding doggerel.
This brilliantly-colored chromolithograph cartoon is one of a number created by Major T.S. Seccombe (1840-1913) depicting Army and Navy life in the mid-19th century. They have been compiled into a book: Army and Navy Drolleries, printed by Frederick Warne & Co. in 1873 and 1876.
GPH-14181
$110