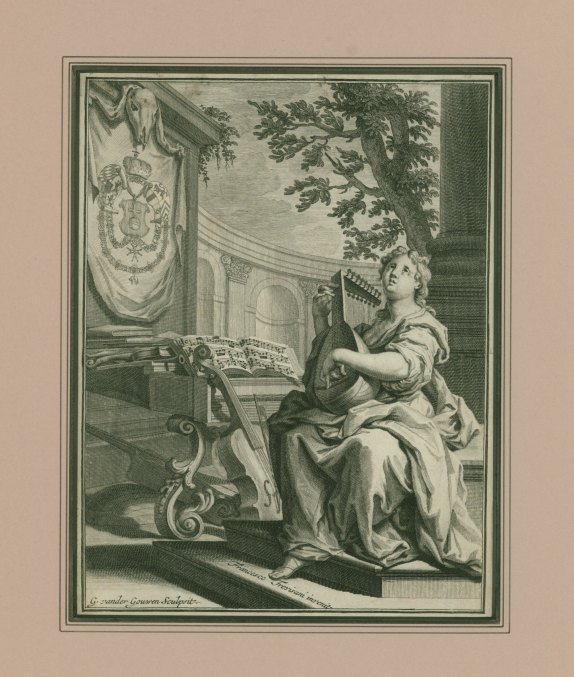 Click Image to Zoom
Enlarge Image
LUTE - 18TH-CENTURY DUTCH ENGRAVING
van der Gouwen, Gilliam
"St. Cecilia Playing A Lute".
Amsterdam, 1714. Image alone: 7.25" h x 9.50" w (18.4 cm x 24.1 cm). With mat: 14.25" h x 16.25" w (36.2 cm x 41.3 cm). A repaired tear on right center; otherwise in fine condition. Matted to plate but retains quarter-inch margins.
G. van der Gouwen after Francesco Trevisani. St. Cecilia, the patron saint of music, is portrayed looking heaven-ward, playing the lute in a garden and surrounded by music and other instruments, in front of a royal crest. Her music is from the first page of the first violin part of Arcangelo Corelli's Op. 6, Concerto No. 1.
This same image, but engraved by Francesco Froripani, was separately used by the Amsterdam music publisher Estienne Roger in 1714 as the frontispiece for Corelli's op 6. Several editions of Corelli's concerti grossi appeared during the 18th century, in various forms.
GPH-14179
$450