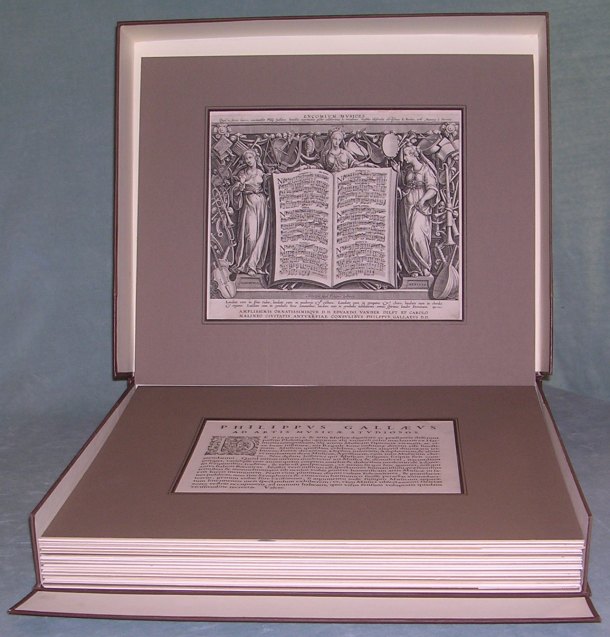 Enlarge Image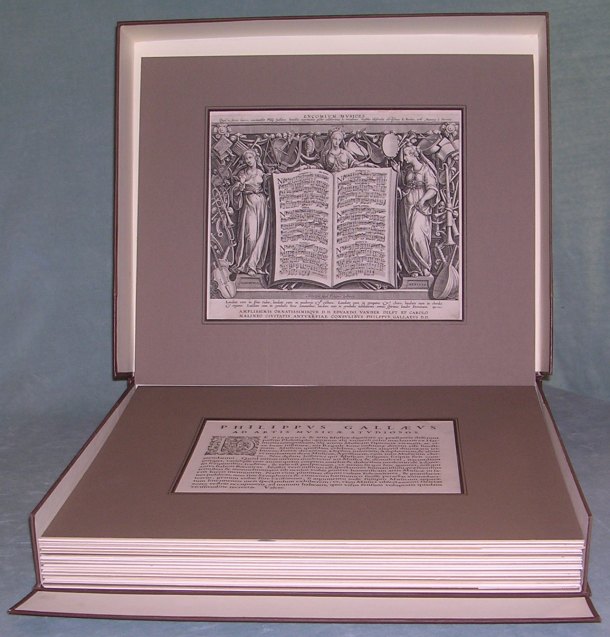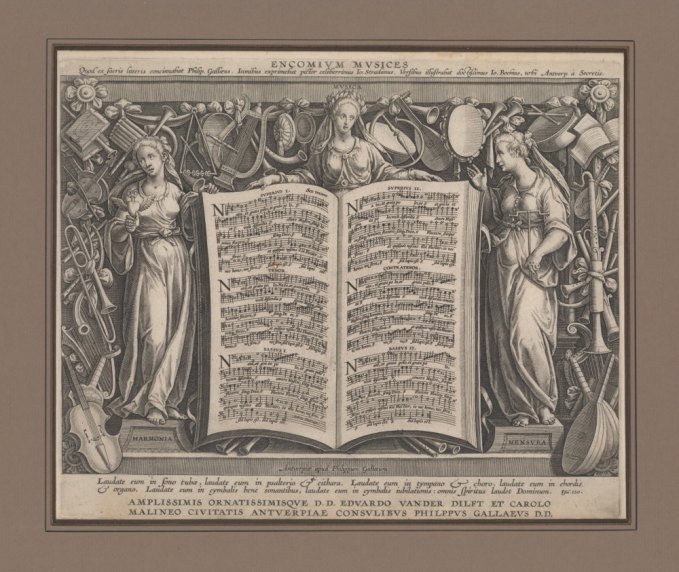 ENCOMIUM MUSICES
Galle, Philip (1537-1612)
RARE COMPLETE SET OF 16TH – CENTURY FLEMISH ENGRAVINGS.
The
Encomium Musices
(Eulogy of Music) is an extraordinary set of engravings published by Philip Galle in Antwerp c. 1590, consisting of a set of 18 plates showing scenes from the Holy Scriptures, all with musical subjects.
Galle was the publisher and chief engraver. Other important artists are exemplified with plates 3, 4, 6-9, 11, 14 and 15 which are engraved by Adrian Collaert (1560-1618) who was the son-in-law of Philip Galle, after designs by Jan van der Straet (Johann Sadeler/ Stradanus, 1523-1605). Plate No. 16, is engraved by Philip Galle's eldest son Theodore Galle (1571-1633). 18 engraved plates, each loose as published with average dimensions to plate mark of 9.25 in h x 11.25 in w and individually matted (acid-free mats measuring 15 in h x 18 in w). A nice complete set with good appearance, generally in very good condition and with clean, strong impressions. All but four of the plates have significant margins. Some of the plates are black and white-toned while other are sepia-toned, indicating plates are from a mix of two pulls. The set is boxed with a total measurement of 3 in x 16 in x 19 in. Box in brown linen with brown leather spine. Please enquire for individual condition reports and additional photographs.
The Encomium Musices is thought possibly to commemorate the rededication of Antwerp's churches to Roman Catholicism after the city was captured by Alexander Farnese in 1585. Galle and most of the artists were associated with the city of Antwerp or the Cathedral of Antwerp. Galle worked there and Andreas Peverange (1543-91) was choirmaster, whereas the chief designer van der Straet was the Town Clerk. The set forms a collection of pictorial scenes featuring musical events from the Holy Scriptures, depicted however with costumes and instruments representing the period of the artists. Beneath each of the engravings is a paraphrased quotation from the relevant Books of the Bible in Latin hexameters.
The set consists of an engraved title page, a preface in letterpress which is counted as plate 2, and sixteen other engravings, numbered from 3 to 18. With the exception of plates 16, 17, and 18 which are connected with the New Testament, all the other plates illustrate scenes from the Old Testament. The title page and page 17 are remarkable as incunabula, being two out of a dozen of the earliest engravings of music in the form of illustrations of open music books in pictorial scenes. The music on the title page was identified by Max Seiffert as Andreas Pevernage's six-part song "Nata et grata polo". The music on page 17, showing the Holy Mass, is not readable; it may indicate a florid Mass for six voices, written by the same composer.
THE ENCOMIUM MUSICES IS AN EXCEEDINGLY MPORTANT DEVELOPMENT IN MUSICAL ICONOGRAPHY. Otto Deutsch produced a 1943 reduced-format facsimile in which he mentions only five known copies to exist. Indeed, complete copies are only rarely seen on the market whereas individual plates are sought after by collectors as beautiful examples of engravings of the period showing musical subjects.
GPH-10977
$15,000