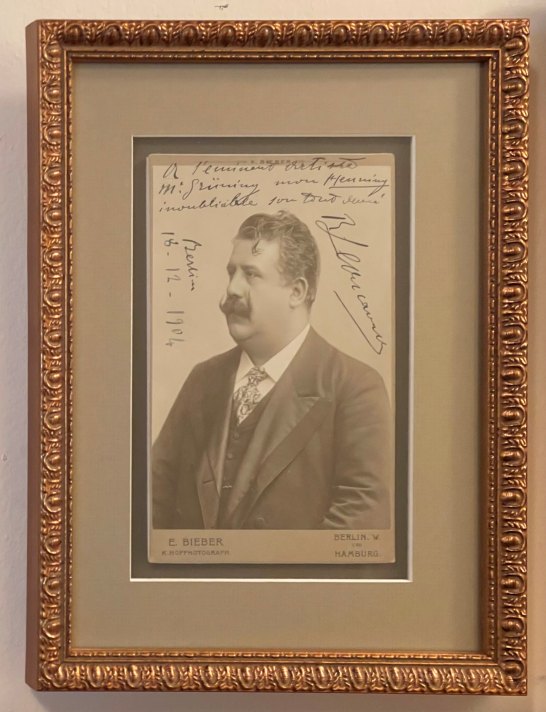 Click Image to Zoom
Enlarge Image
Leoncavallo, Ruggero (1857-1919)
Photograph Signed
"R. Leoncavallo". Berlin, December 18, 1904. Photograph size: 6.5" h x 4.25" w. Total size in frame: 10.5" h x 8.25" w. Excellent.
Signed at the time of Der Roland von Berlin premiere.
A clear and well-defined image in an attractive frame. The composer has inscribed the photograph to Wilhelm Grüning, who created the role of Henning in Leoncavallo's opera Der Roland von Berlin. Karl Muck conducted; included in the cast were Emmy Destinn and Geraldine Farrar.
After the success of Pagliacci and I Medici, Wilhelm II commissioned an opera from Leoncavallo to celebrate the Hohenzollern dynasty. The chosen subject, Alexis's 1840 novel Der Roland von Berlin, had to first be translated into Italian for Leoncavallo to write the libretto; the result was then translated back into German for the premiere in Berlin in 1904. The opera was a success and received nearly 40 performances. The Italian premiere took place a month later in Naples.
PHO-14750
$1,200