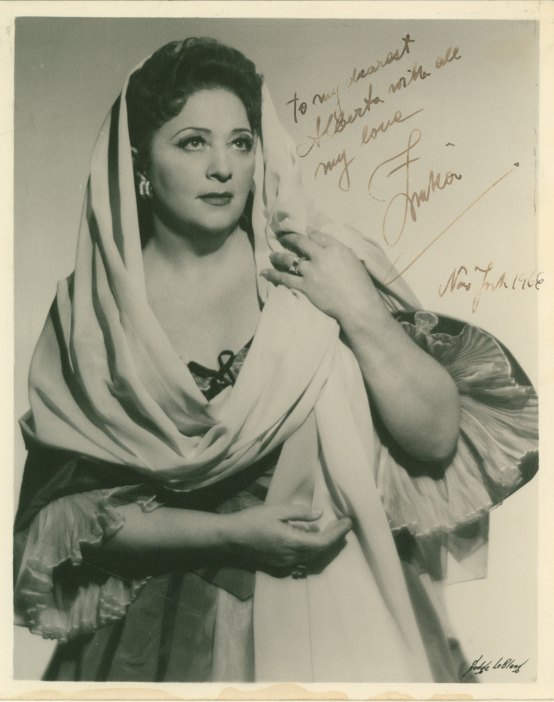 Click Image to Zoom
Enlarge Image
Milanov, Zinka (1906-1989)
Photograph As Maddalena
Signed "Zinka". Total measurement of 10" h x 8" w. Very good condition.
A lovely image of soprano Zinka Milanov in costume as Maddalena in Giordano's Andrea Chénier, inscribed to the Metropolitan Opera's legendary opera coach (also coach for Maria Callas, among many others) and assistant conductor Alberta Masiello - "To my dearest Alberta with all my love / Zinka / New York 1966".
In the three decades that followed her 1937 Metropolitan Opera debut, soprano Zinka Milanov was a dominant figure in the company's Italian repertoire, in a career that overlapped Ponselle and Rethberg at its beginning and Callas, Price and Tebaldi at its conclusion. Year in and year out, Milanov delivered legendary Met performances as the great Verdi heroines in Aida, Un ballo in maschera, La forza del destino, Otello and Il trovatore, as well the title roles in La Gioconda, Norma and Tosca. When she opened the 1952-53 Met season as Leonora in a new production of La forza del destino, critic Louis Biancolli wrote in the New York Telegraph and Sun of her performance of "Pace, pace, mio Dio", "I couldn't resist 'bravoing' at that point myself, thoughI know a critic's enthusiasm is supposed to be confined to his typewriter. Mme. Milanov's rendering of the aria was the best since Muzio and Ponselle. Among other things, hers is the most moving pianissimo of our time."
PHO-11274
$250