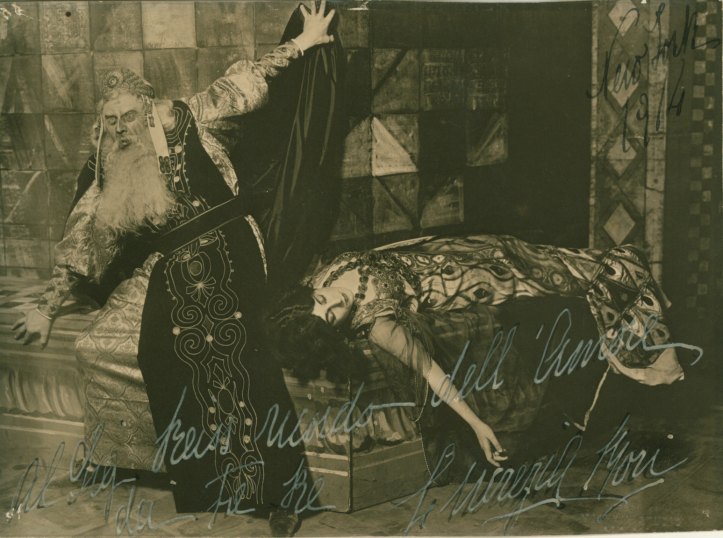 Click Image to Zoom
Enlarge Image
Bori, Lucrezia (1887-1960)
Metopolitan Opera Production Photograph of 1914 "L'Amore dei tre Re" Premiere Signed
"Lucrezia Bori". Total measurement of 5" h x 7" w. Tiny pinholes in each corner, otherwise excellent.
Lucrezia Bori signed this dramatic production shot from the Metropolitan Opera's premiere staging of Montemezzi's L'Amore dei tre re, featuring Adamo Didur, left, as Archibaldo and Bori as Fiora in the opera's second act. Bori apparently signed in black ink, then traced over it in white, inscribing it in Italian "To Signor Reiss, remembering the Amore dei tre re" and dating it "New York 1914" in black ink in the upper righthand corner.
Though it is largely forgotten today, Italo Montemezzi's L'Amore dei tre re was an international sensation before World War I, and its Metropolitan Opera (and U.S.) premiere was a headline event. Toscanini conducted a cast led by Bori, Didur, Pasquale Amato and - as the hero Avito - tenor Edoardo Ferrari-Fontana, in his Met debut in the role he had sung in the world premiere. In a glowing opening night review, W.J. Henderson in the New York Sun wrote that "the production adds much to the artistic standing of the Metropolitan Opera House." He added that "Miss Bori must have astonished her most devoted admirers by her impersonation of Fiora. To summarize briefly, it was lovely in its pictorial quality and sung almost flawlessly."
PHO-08773
$300