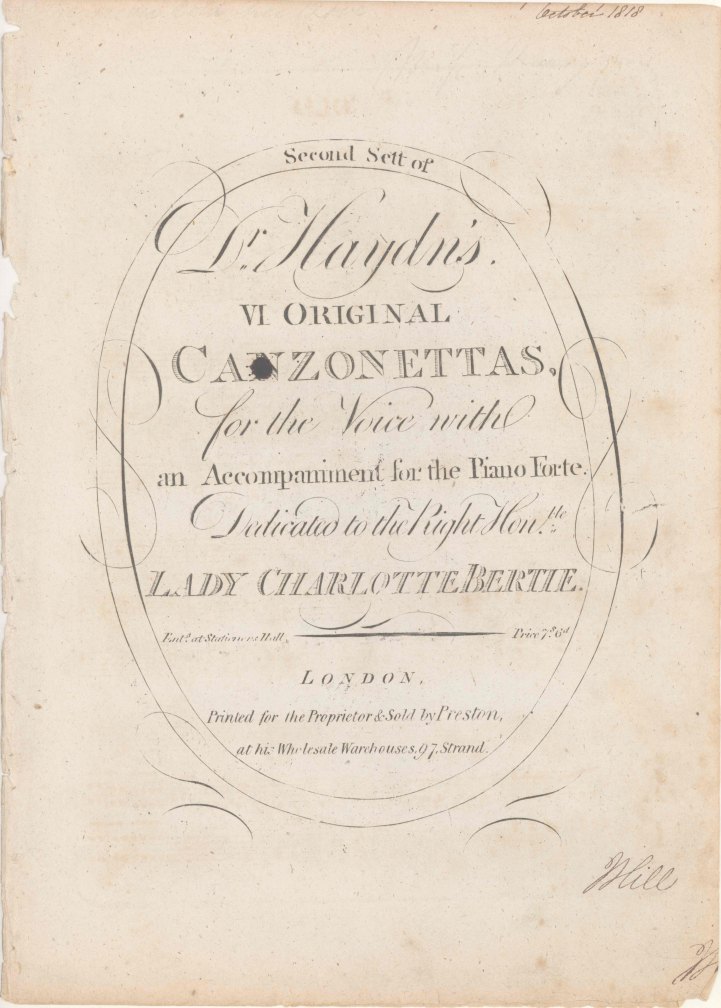 Click Image to Zoom
Enlarge Image
Haydn, Franz Joseph
Second Sett Of Dr. Haydn's VI Original Canzonettas, For The Voice With An Accompaniment For The Piano Forte. She Never Told Her Love.
Preston: London, [c. 1800, as per WorldCat]. Pl.n 537. An early, lifetime edition. Engraved. Paginated 14-15. Title page with stain (bleeding through to a measure of rest on verso), light spotting, signature of W. Hill, and manuscript date of October 1818 at top. Holes at centerfold from former binding. Light ink transfer to music.
Haydn's English canzonettas are noted for their artistic forms and word painting. This song, "She never told her love," takes its text from Shakespeare's Twelfth Night and is perhaps the best known of its set. Scholars have noted that the vocal entrance unexpectedly occurs over the dominant-seventh harmony (rather than over the tonic), and that Haydn poetically chose a diminished harmony to accompany the song's climax at the words smiling at grief.
MUS-15221
$35