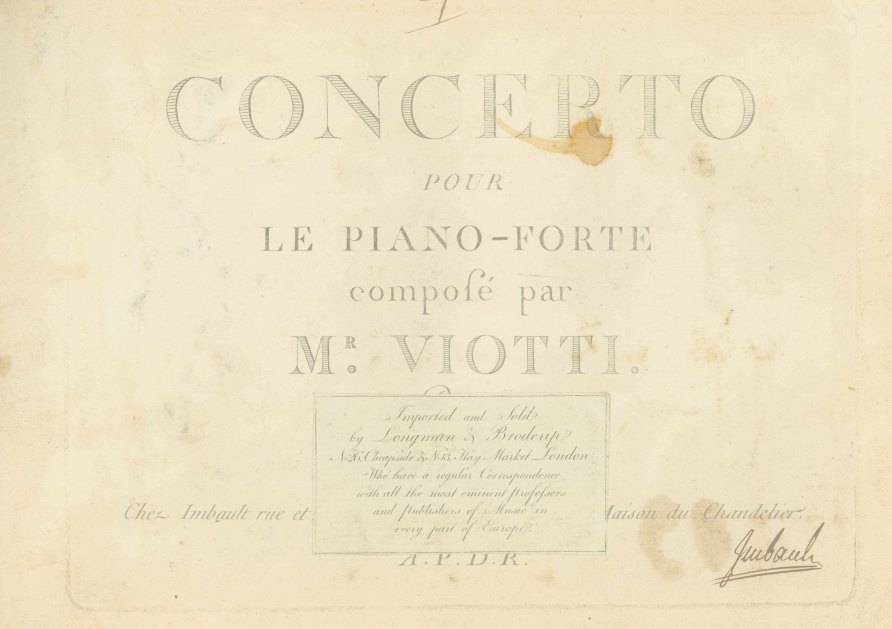 Click Image to Zoom
Enlarge Image
Viotti, Giovanni Battista (1755-1824), and Hélène de Montgeroult, arranger
Concerto [No. 1] Pour Le Piano-Forte.
Chez Imbault: Paris, [c. 1790]. Engraved. Oblong quarto. 19 pp. Imbault signature on title page. Modern green paper wraps with title in ballpoint pen. Title page with stains and Longman & Broderip label laid down over Imbault imprint. Otherwise an impressively crisp and clean copy in excellent condition.
Published in Paris during the tumultuous early years of the French Revolution. Solo piano part only.
This concerto was arranged from Viotti's Violin Concerto No. 6 in E (1782, WI6) by French pianist and composer Hélène de Montgeroult, though she is not attributed in this score. Montgeroult was aristocratic by birth and imprionsed during the later phases of the French Revolution; it was reported that her improvisations on the "La Marseillaise" before the ruthless Committee of Public Safety secured her freedom. In 1795 she became the first woman professor ever appointed at the Paris Conservertoire.
MUS-14951
$200