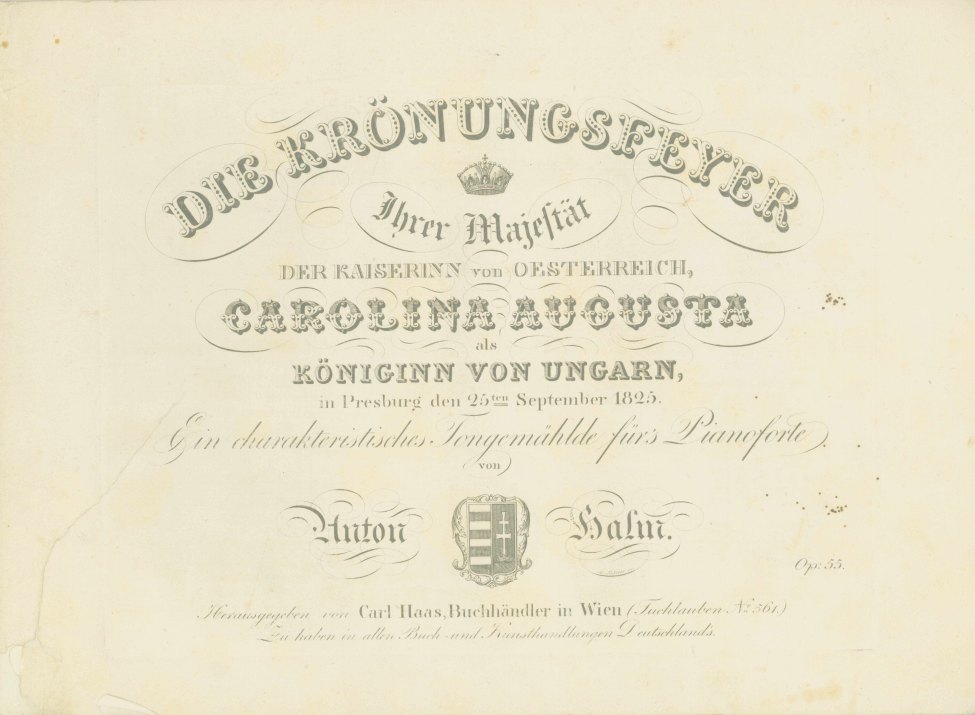 Click Image to Zoom
Enlarge Image
Halm, Anton (1789-1872)
Die Krönungsfeyer Ihrer Majestät, der Kaiserinn von Oesterreich, Carolina Augusta als Königinn von Ungarn, in Presburg den 25 ten September 1825. Ein charakteristiches Tongemähle für's Pianoforte.
Carl Haas: Vienna, [c 1825]. Engraved. Oblong quarto. 39 pp. Marbled purple paper boards. A very nice copy, crisp and internally clean. Professional repair to title page and p. 1 (just barely affecting the end of one stave). Bottom quarter of pp. 37-38 missing (affecting two staves of music on each page).
A programmatic piece evidently written in honor of Caroline Augusta's coronation as the Queen of Hungary in 1825. Several passages are marked to denote different elements of the coronation and ensuing celebration, including the entrance of the procession into the cathedral, cannon fire, and banquet festivities.
Published in or about 1825, as per WorldCat.
MUS-14946
$150