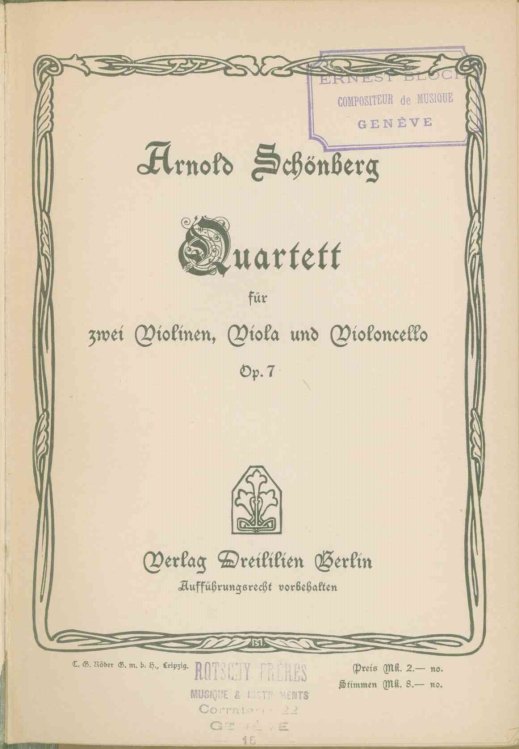 Enlarge Image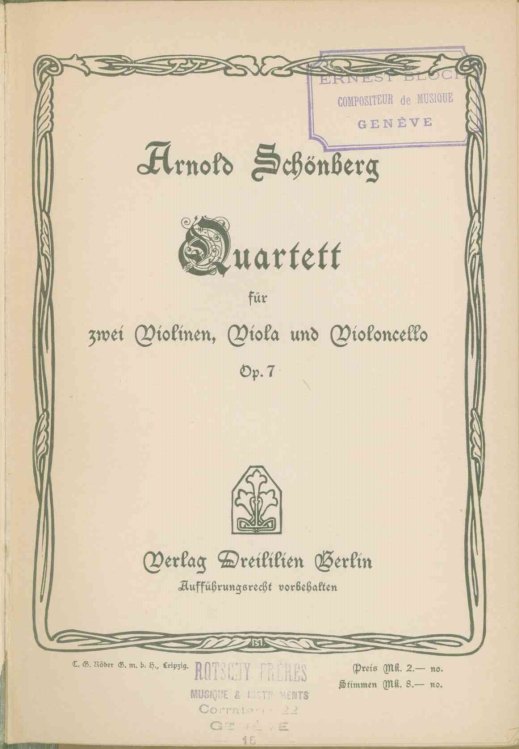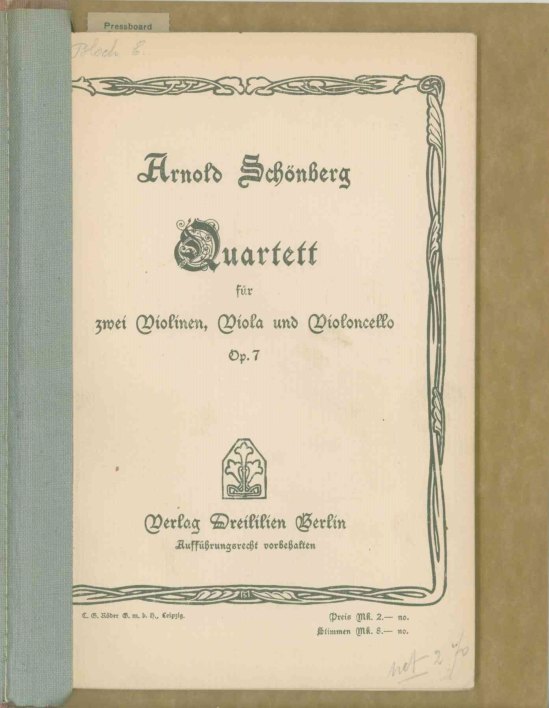 SCHOENBERG - QUARTET FROM BLOCH LIBRARY
Schoenberg, Arnold (1874-1951)
Quartett für zwei Violinen, Viola und Violoncello, Op. 7. [Score].
Verlag Dreililien: Berlin, [1907]. Pl.n: 624.

first edition

. Small octavo. 80 pp. Signed Bloch E in pencil at top left of front wrapper and with Bloch's Geneva stamp on title page. Score with original wraps and taped (one assumes by Bloch) into a pressboard binder. A very good, clean copy. Tape from Bloch's "binding" on wrappers; dealer stamp on title page.
The D Minor Quartet, which Grove's Dictionary describes as Schoenberg's first wholly characteristic and assured large-scale masterpiece, takes the form of one movement comprising four distinct sections. The work marks an important step in the development of Schoenberg's melodic style: its melodies are first presented in firmly tonal frameworks but gradually develop and combine contrapuntally to lose tonal definition. Schoenberg used the term vagrant harmonies for the resulting dissonant (but not yet atonal) result.
Owing to his stamp on the title page, it seems likely that Bloch acquired this score while living in Geneva. He had settled there in 1905 after a decade spent studying in Brussels, Frankfurt, and Paris. Although he primarily worked at his father's business as a salesman of Swiss tourist goods, he remained musically active by intermittently composing, conducting orchestral concerts, and lecturing on aesthetics at the Geneva Conservatory. It was also during this period that his successful lyric drama, Macbeth, premiered at the Opéra-Comique.
MUS-13699
$225