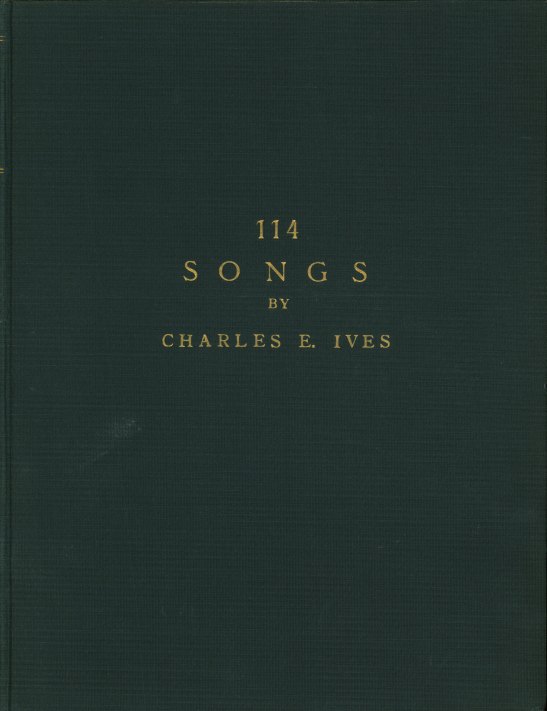 Click Image to Zoom
Enlarge Image
Ives, Charles (1874-1954)
114 Songs.
Self-published: Redding, CT, 1922.

First Edition

, second issue. Quarto. 262 pp. Blue buckram. A fine copy in excellent condition.
Ives, often referred to as the ultimate American original in music, had ceased composing very much by the time he published 114 Songs, due to several heart attacks. This self-published work is a compilation of unpublished material drawn from all periods. It was never available commercially. As Ives put it "The printing of this collection was undertaken primarily, in order to have a few clear copies that could be sent to friends who, from time to time, have been interested enough to ask for copies of some of the songs; but the job has grown into something different, - it contains plenty of songs which have not and will not be asked for." At the end of his witty postlude, Ives writes "Some of the songs in this book, particularly among the later ones, cannot be sung – and if they could perhaps might prefer, if they had a say, to remain as they are….a song has a few rights the same as other ordinary citizens…..If it happens to feel like trying to fly where humans cannot fly, - to sing what cannot be sung – Who shall stop it!"
This copy is signed "Howard Shanet" on the first front blank. Howard Shanet was a Columbia University-based conductor and writer on music, noted especially for his support of new music as well as neglected works of the past. He wrote the definitive book on the history of the New York Philharmonic.
MUS-11302
$600