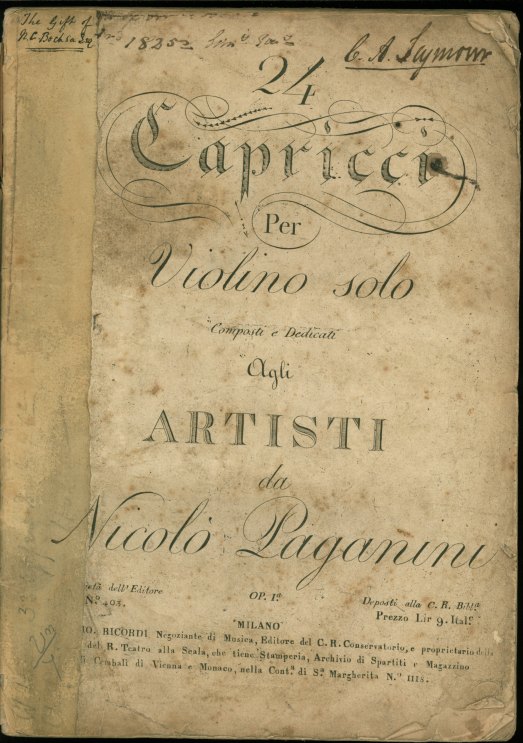 Enlarge Image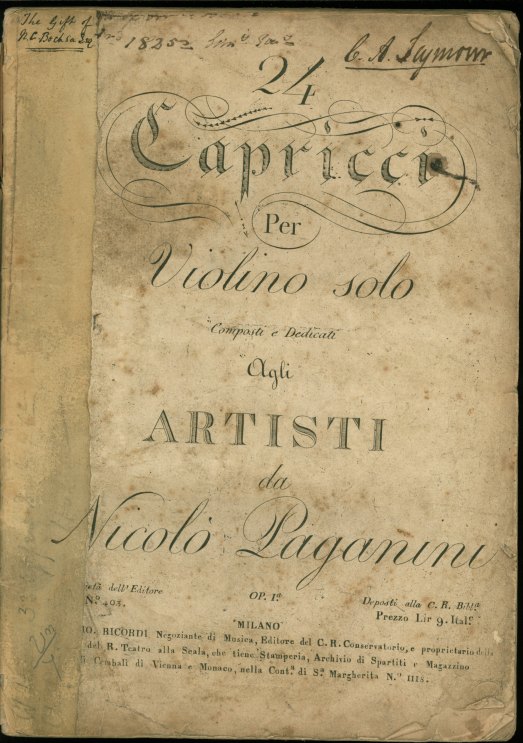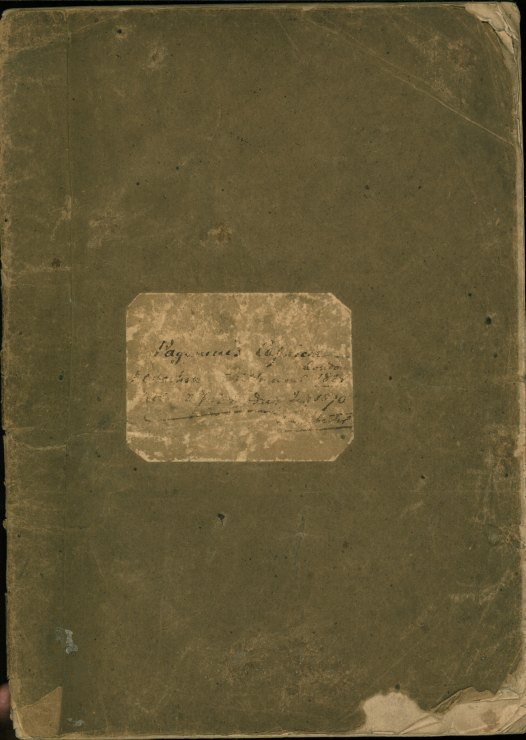 Paganini, Niccolò (1782-1840)
Capricci Per Violino Solo / Composti E Dedicati Agli Artisti.
Ricordi: Milan, [1820]. Pl.n 403.

First Edition

, with the price as "Lir 9. Ital.e". Large Quarto. 46 pp. plus titlepage. Contemporary soft covers, with English title. Handsomely boxed in brown silk with marbled paper interior (modern). Internally a bit soiled with occasional foxing, some pages slightly cropped along right margin but not affecting music, pages bent from thumbing. A moderate amount of pencilled fingerings. Title page quite soiled and has original stitching and contemporary reinforcement. Early paper wraps with label, quite soiled and tattered along spine and edges. [Fuld, 455].
The very Rare First Italian Edition
Paganini composed his epoch-making work from 1801-1807. The Caprices were the inspiration for the nineteenth-century instrumental virtuosity of Liszt, Schumann and Brahms, all of whom made piano versions of some of them.
This copy was owned by C.A. Seymour, a violinist at London's Royal Academy of Music and whose autograph signature appears on the upper right hand corner of the title page. On the left is written: "The gift of N. C. Bochsa Esq", referring to the somewhat notorious composer and harpist Nicolas-Charles Bochsa, whom Seymour must have known as a colleague at the Royal Academy. Bochsa helped found the Royal Academy of Music in 1821, and became its secretary, also teaching harp. Previously he had been working in Paris, as court harpist to Napoleon and writing operas for the Opéra-Comique. He was convicted for fraud and counterfeiting in 1817 and fled to England. When his criminal conviction was revealed in 1826 he was forced to resign from the Royal Academy, moving on to an important career and other scandals including running off with the opera singer Anna Bishop, wife of the composer Henry Bishop.
MUS-07374
$10,000