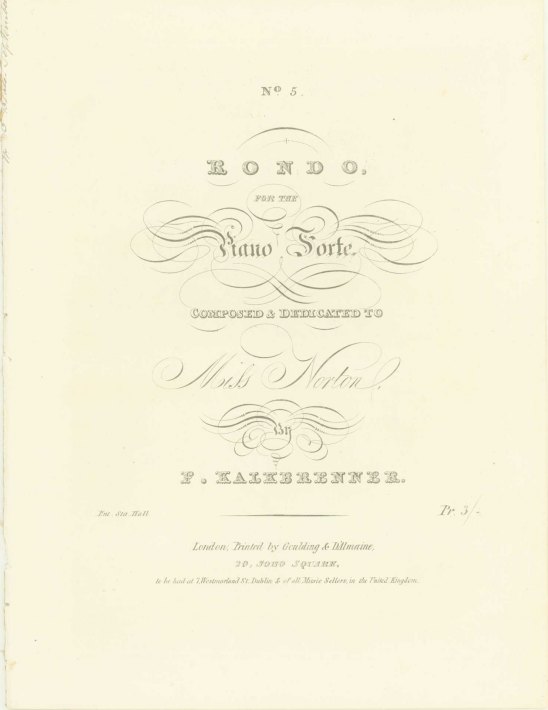 Click Image to Zoom
Enlarge Image
Kalkbrenner, Frédéric (1785-1849)
No. 5. Rondo, for the Piano Forte. Op. 58.
Goulding & D'Almaine: London, [ca 1825].

first edition

of this arrangement. Engraved. Quarto. 11 pp. Disbound. Overall good condition. Some ink transfer and pencil markings throughout. Some pages beginning to detach.
The rondo movement of Kalkbrenner's Sextet in G major, Op. 58, arranged for piano alone.
In its second volume of 1825, The Monthly Magazine; or, British Register reviewed this new rondo as follows: No. 5. Rondo for the Piano-Forte; dedicated to Miss Norton. By F. Kalkbrenner. 3s. Goulding and Co.--This is one of a class of compositions to which we are extremely partial. The character of the piece is rather orchestral than otherwise: it is not a mere concatenation of brilliant piano-forte passages, huddled together without design; it consists of two or three regular subjects, which, after being treated simply, are interwoven, in the most skilful manner, yet without any appearance of labour...
MUS-07029
$40