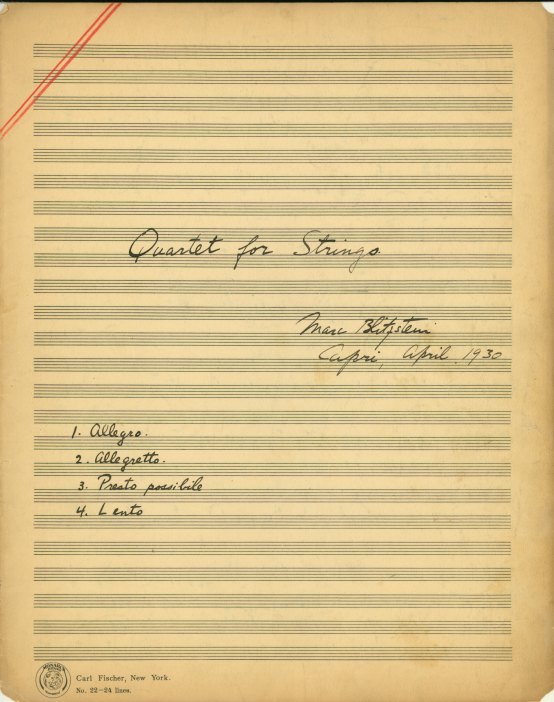 Enlarge Image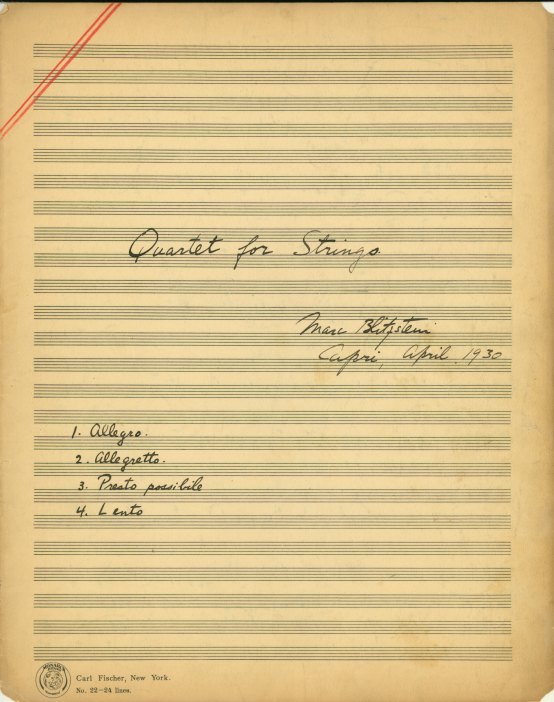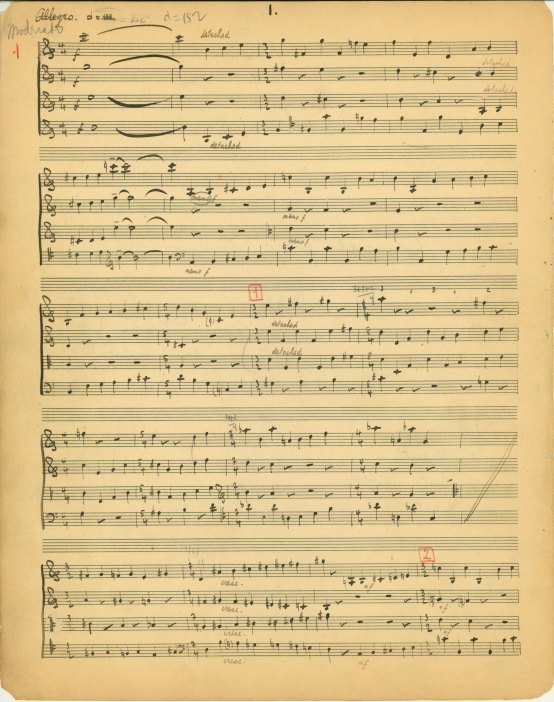 Blitzstein, Marc (1905-1964)
Autograph Manuscript Of A String Quartet, Signed
on the title page "Marc Blitzstein / Capri, April 1930". Folio, on 24-stave Fischer music paper. 31 pp. + title page and outer cover (on same music paper). The manuscript, with holograph markings, is in excellent condition with some browning to edges. Cover soiled and with some small chips and tears to edges, scotch tape reinforcement to spine.
The cover of the manuscript bears the title
Quartet for Strings
and has numerous holograph annotations in pencil as well as green and red grease pencil, including movement titles which differ somewhat from those on the title page and are apparently indications for a publisher. Most of the annotations are in Blitzstein's hand but some are possibly in a different hand.
The manuscript, entitled Quartet for Strings has four movements listed on the title page as: Allegro, Allegretto, Presto possibile, and Lento. There are holograph markings throughout in both ink and pencil, mainly dynamics, tempi and timings but a few corrections as well (mainly in the second movement). There are also major deletions on seven pages of the second movement, made in blue grease pencil and regular pencil.
The American composer, lyricist, and librettist Marc Blitzstein wrote two String Quartets: this one, listed on the official Blitzstein website as
String Quartet, Italian
, had its first performance in Philadelphia in 1931. His other quartet was written in 1932 and is called
Serenade for String Quartet
.
Blitzstein came in contact with the preeminent composers of the New York music scene of the 1920s and 30s, including Kurt Weill, Aaron Copland, Henry Cowell, and later Leonard Bernstein, who became one of the most vocal proponents of Blitzstein's music.
Blitzstein performed as a piano soloist with the Philadelphia Orchestra at fifteen and attended the Curtis Institute of Music in Philadelphia, later studying with Nadia Boulanger in Paris and Arnold Schonberg in Berlin. Though gay, he married the novelist Eva Goldbeck (1933), to whom this String Quartet is dedicated. In 1936, Goldbeck died of anorexia and Blitzstein's grief prompted him to write his best-known work, The Cradle Will Rock, a pro-union musical directed by Orson Welles which caused a sensation and won national attention in 1937. Blitzstein was "the first composer to develop a convincing music-theatre idiom representative of American vernacular speech style" [Grove's VI].
Blitzstein manuscripts are of the utmost rarity in the market.
MAN-12685
$9,000