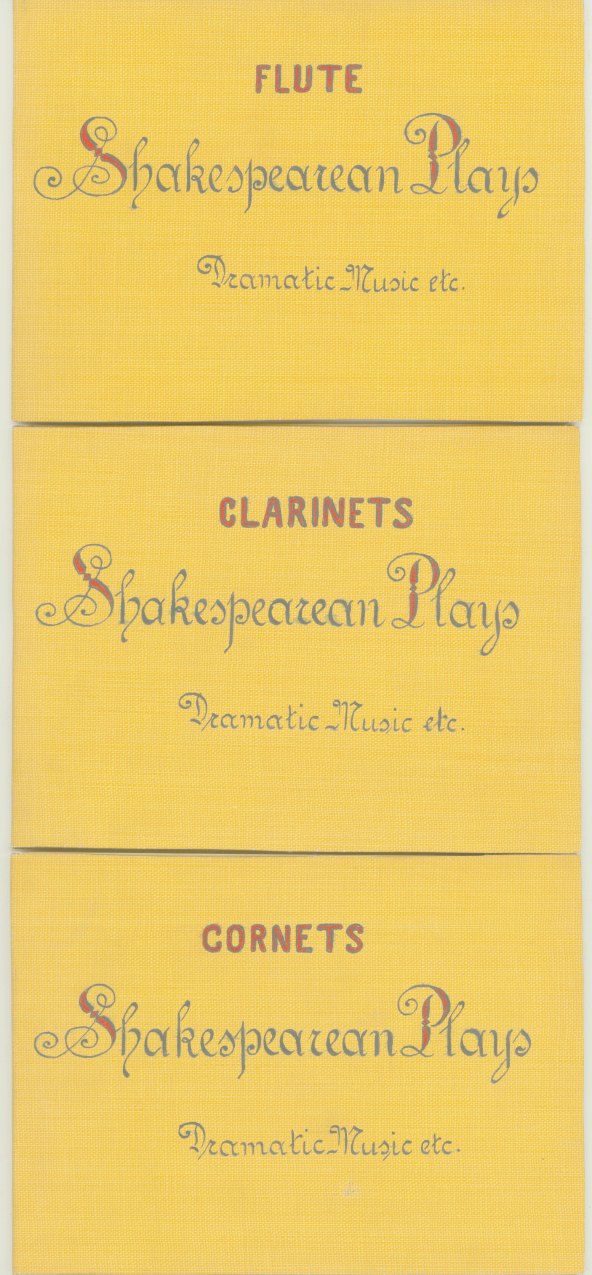 Click Image to Zoom
Enlarge Image
SHAKESPEARE - INCIDENTAL MUSIC FOR PLAYS
Shakespearean Plays. Dramatic Music etc. Flute, Clarinets, Cornets, Horns, Trombone. Facsimile edition
G. Schirmer: New York, c 1886. Small oblong octavo. 18 + 18 + 35 + 22 + 16 pp. Yellow buckram boards. In excellent condition.
An apparently very scarce set of five small facsimile part books containing incidental music for the performance of Shakespeare's plays,
Copied from the original Stage Music Books of the Edw[in] Booth & Barretts Co. in about 1886 by John B. Martin.
The plays include: Hamlet, Macbeth, Julius Caesar, Othello, and Richard III. The music is unattributed, as is common for nineteen-century incidental music of this nature.
Edwin Booth was the foremost Shakespearean actor of his time and a particular favorite of theater goers despite being the brother of President Lincoln's assassin. His attempt at managing his own theater in New York City, though, never quite materialized as a profitable venture and resulted in bankruptcy. Lawrence Barrett, also an actor, shortly thereafter proposed that the pair work collaboratively -- Booth being "managed" by the more business savvy Barrett -- in a touring dramatic troupe. (Their partnership never seems to have been formely called a company, as the copyist of these little books suggests.) Booth's popularity and skill and Barrett's organization ensured their success, and they continued touring the troupe, with Booth as its star, until Barrett's death in 1891.
FAC-14813
$175