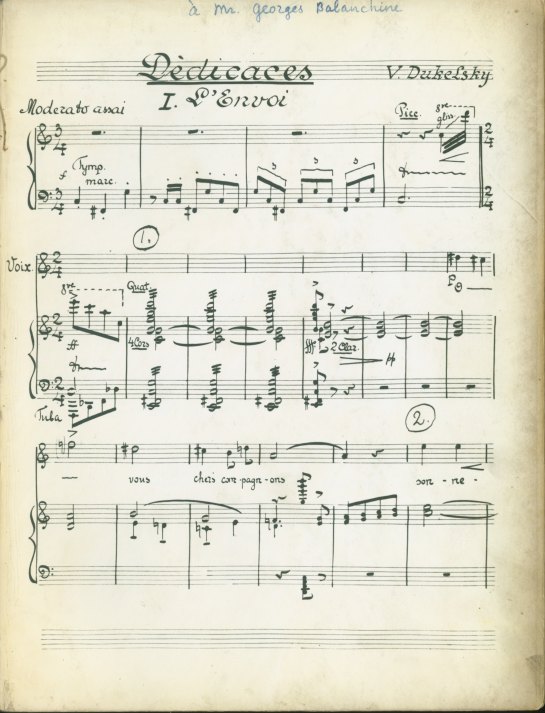 Click Image to Zoom
Enlarge Image
DUKE, VERNON - SCORE INSCRIBED TO BALANCHINE
Duke [Vladimir Dukelsky], Vernon
Dédicaces.
Facsimile of the manuscript. 64 pp. Scored for piano and voice (lyrics in French). Black buckram. Mostly unsewn, some pages very lightly soiled but overall quite fine.
Inscribed by Duke to the famous choreographer George Balanchine in blue crayon. Marked throughout with section numbers and dynamics and with penciled corrections and penciled alternatives on pages 42, 43 and 59. Orchestral indications in pencil on pages 59-63. Dated in ink at the end "1934-1936."
Vernon Duke (1903 – 1969) was an American composer known for some of the best-loved American standards such as
Taking a Chance on Love, I Can't Get Started, April in Paris, What Is There To Say
and
Autumn in New York.
Duke collaborated with lyricists such as "Yip" Harborg, Johnny Mercer, Ira Gershwin, Ogden Nash and Sammy Cahn.
At the suggestion of George Gershwin, Vladimir Dukelsky used the pseudonym "Vernon Duke" for his popular songs, but used his Russian name for all his other works. He was championed by Serge Koussevitsky and his play "Cabin in the Sky" was choreographed by Balanchine, which may be where the acquaintance originated.
FAC-12899
$750