Enlarge Image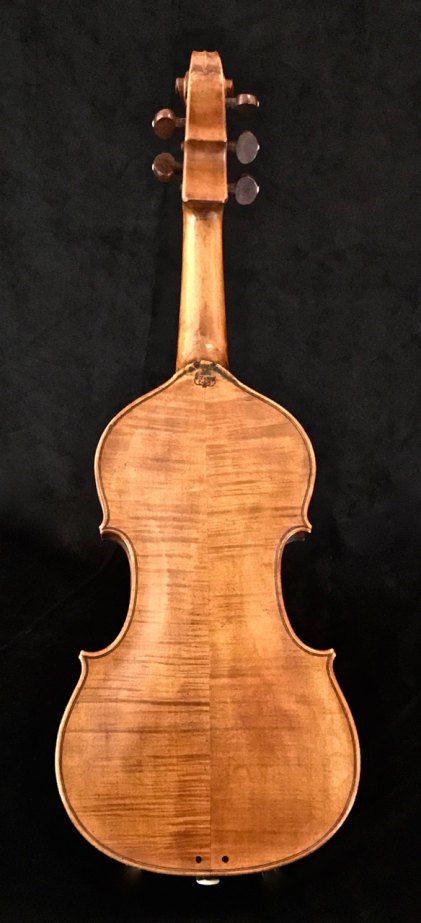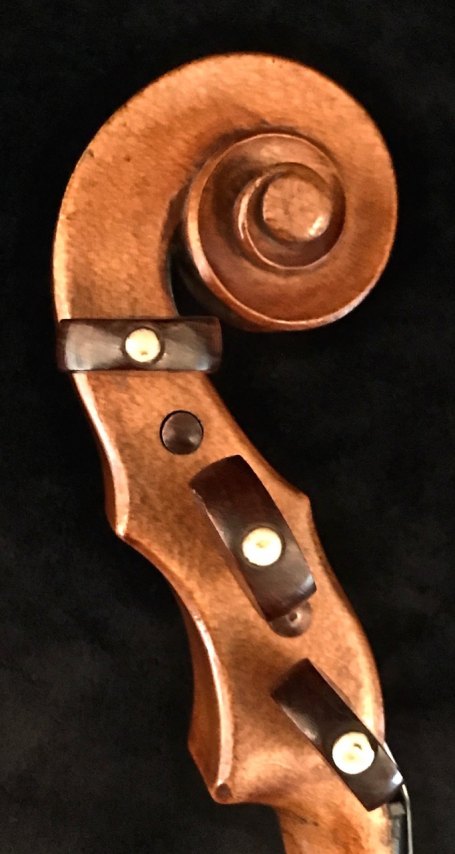 QUINTON
Harmond, Nicolas (fl. 1855-'89)
French, 18th century
Probably 1760-'70. Body length: 14 1/8" (3 cm); upper bout: 6.25" (15. cm); middle bout: 4.25" (10.8 cm); lower bout: 8 1/8" (20.8 cm). Total length: 23.5" (59.7 cm). Overall in excellent condition with original intact varnish and no signs that the instrument has had much use. One minor repaired crack on top near the tailpiece. The base of the neck shows signs of an early repair (including a small part of the button).
The quinton bears a brand on the button with the initials "H.M." surrounded by a decorative cartouche. The brand has been altered to appear "N.M. and the quinton also bears a non-original label of Nicholas Médard which someone probably put in at the same time, most likely because he is the most well-known French maker with the initials "N.M.", although a century earlier. The instrument is basically of violin shape but with some viol features such as the sloping shoulders and the scalloped-sided pegbox. The top is of finely-grained spruce, the two-piece back is of horizontally-flamed maple of a dark honey color. The deep sides and scroll are of a plainer maple. The pegs are probably original with the instrument and have ivory buttons. The ebony-veneered fingerboard is original, as is the ivory button whereas the ebony tailpiece is of a later date.
In our opinion the brand, although altered, is original and the maker is almost certainly Nicolas Harmand who flourished in Mirecourt where he was elected Chairman of the Musical Instrument Makers Guilde in 1772. We are grateful to Thomas MacCracken for pointing us to four other quintons made by Harmond. The quinton is a difficult instrument to define but basically it is a violin with five strings. The quinton usually had sloping shoulders, was sometimes fretted and the five strings were tuned g-d'-a'-d''-g'' like a viol. The quinton appeared in 18th-century France at a time when instruments showed the last vestiges of the viol family and was short-lived. Mme. Henriette de France, daughter of Louis XV, was proficient on both the quinton and the pardessus de viole. The French composer Jacques Aubert (1689-1753) composed sonatas (op.4) for the instrument.
Provenance: from the personal collection of the noted violin dealer/expert Rembert Wurlitzer.
INS-12695
$12,000