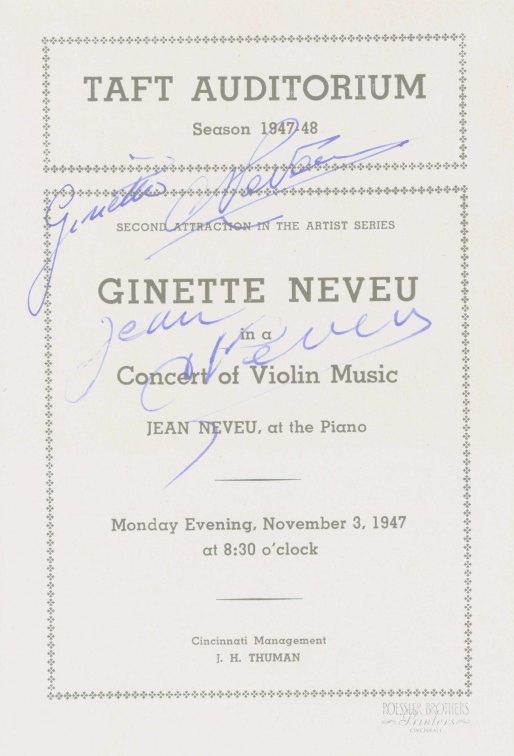 Click Image to Zoom
Enlarge Image
Neveu, Ginette (1918-1949)
Taft Auditorium, Cincinnati, Ohio, November 3, 1947. Small octavo. In excellent condition (with light glue residue at corners of back page).
A very scarce program signed by Ginette Neveu and her brother, pianist Jean Neveu, for a concert they gave in November 1947, just two years before the plane crash that would take both their lives. The works performed included Ravel's
Tzigane
, which was one of the few pieces Ginette recorded in her short career.
Examples of Ginette Neveu's autograph are quite rare, and even more so in combination with her brother's.
After early studies with George Enescu, Nadia Boulanger, and Carl Flesch, Ginette Neveu won the Henryk Wieniawski Violin Competition, catapulting her into a career of international touring at just fifteen years old. Her brother, Jean, often served as her accompanist. Her untimely death elicited the grief of the musical world, Francis Poulenc, Pablo Casals, Charles Munch, and Jacques Thibaud all commenting that her talent would not be forgotten.
PGM-15009
$850