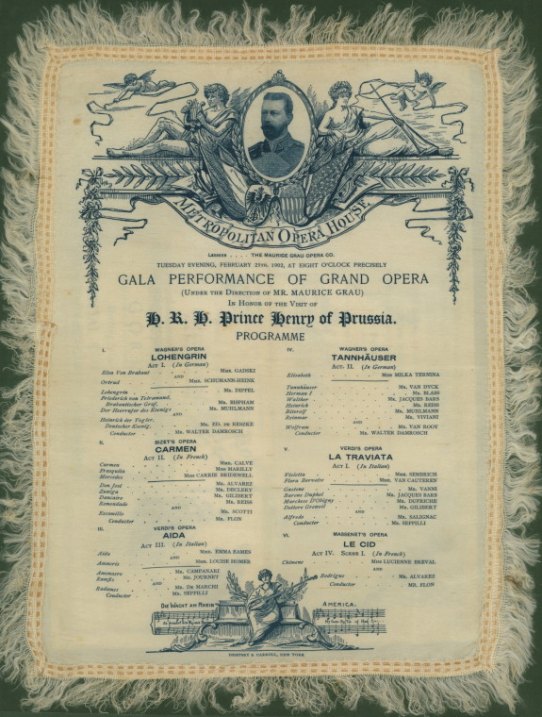 Click Image to Zoom
Enlarge Image
METROPOLIAN OPERA SILK PROGRAM
A much-heralded 1902 grand gala
Feb. 25, 1902. 15.50" h x 12.0" w. Encapsulated in mylar with a total measurement of 17.25" h x 13"w. Unusually fine condition with original tassels.
A "Gala Performance of Grand Opera in Honor of the Visit of H.R.H. Prince Henry of Prussia" (the younger brother of Kaiser Wilhelm II), with his portrait at the top center. Printed in navy blue on cream silk. The program consisted of whole acts of Lohengrin, Carmen, Aida, Tannhäuser, La traviata and a scene from Massenet's Le Cid. Among the singers were Johanna Gadski, Ernestine Schumann-Heink, Andreas Dippel, Edmond de Reske, Emma Calvé, Emma Eames, Louise Homer, Milke Ternina, Ernest van Dyck, Marcella Sembrich, Lucien Breval, Albert Alvarez. One of the three conductors was Walter Damrosch.
According to the Met Archives, Act I of La traviata was not heard that night; when Marcella Sembrich (Violetta) learned that Prince Henry had left the theater, she refused to perform. The receipts for this performance were $52,728.50, whereas most performances during the season took in less than $10,000 each.
PGM-11270
$500