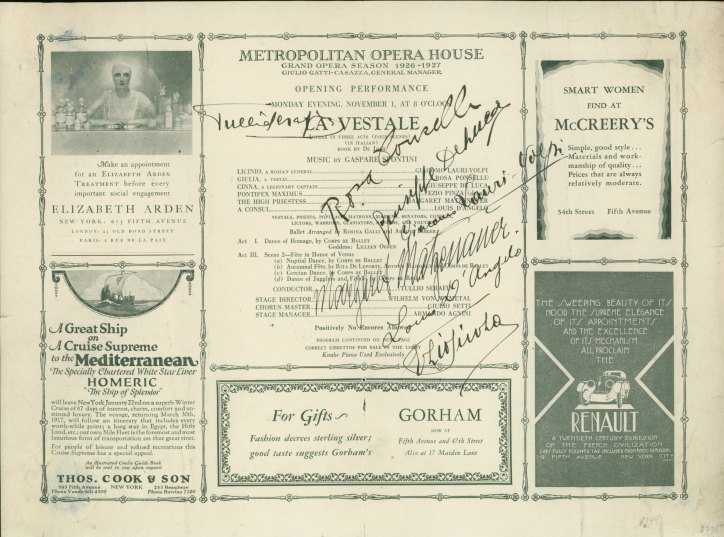 Click Image to Zoom
Enlarge Image
METROPOLITAN OPERA SIGNED 1926 PROGRAM OF SPONTINI'S LA VESTALE
Signed by the entire cast including Ponselle & Pinza
Nov 1, 1926. Total measurement of 15.50" h x 19" w. Generally fine except for traces on verso of having been laid down and slightly frayed at extreme edges.
Signed by the entire cast which included Rosa Ponselle, Giacomo Lauri-Volpi, Giuseppe De Luca, Ezio Pinza, Margaret Matzenauer and Louis D'Angelo, as well as the conductor Tullio Serafin.
A dazzling array of singers opened the Met's 1926-27 season in one of only a handful of performances in the house's history of Spontini's stately grand opera, which were mounted to showcase the phenomenal artistry of Rosa Ponselle in the role of Giulia. The entire cast and conductor Tullio Serafin signed this program centerfold from the opening-night performance, which featured the Met debut of bass Ezio Pinza in the role of Pontifex Maximus. In his opening night review, W.J. Henderson of the New York Sun noted briefly that Pinza ("a newcomer") "gave promise of being a useful addition to the company."
PGM-08144
$500