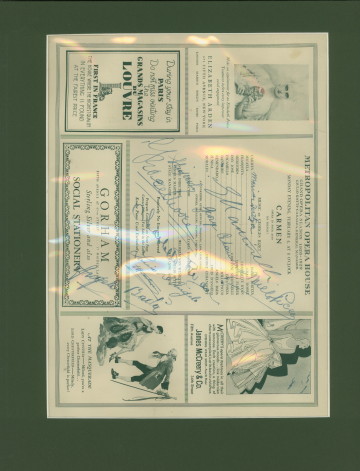 Click Image to Zoom
Enlarge Image
METROPOLITAN OPERA SIGNED 1929 PROGRAM OF CARMEN
Program for Tosca on verso
Total measurement of 16" h x 18.50" w. Matted with open window to show verso. Both programs are in very good condition except for minor creases & having been laid down on black album leaf paper.
The centerfold program for Bizet's great opera, with surrounding ads, has been signed by Maria Jeritza (Carmen), Giovanni Martinelli (Don José), Ezio Pinza (Escamillo) and Grace Moore (Micaela), as well as conductor Louis Hasselmans and all but one other member of the cast.
On the verso is a centerfold program for Puccini's Tosca, in a Met benefit performance dated Jan. 26, 1929. This one is signed by Maria Jeritza (Tosca), Giovanni Martinelli (Cavaradossi), Antonio Scotti (Scarpia), the rest of the cast and conductor Vincenzo Bellezza.
PGM-07795
$450