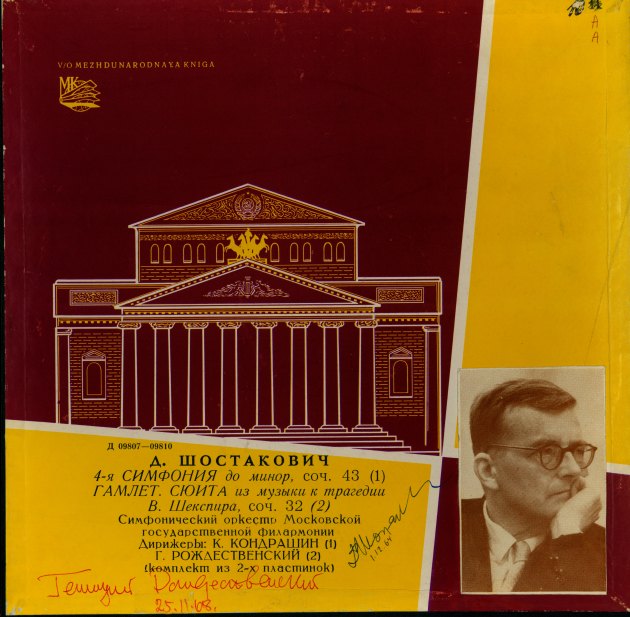 Click Image to Zoom
Enlarge Image
Shostakovich, Dmitri (1906-1975)
LP Recording Signed In Cyrillic "D Shostakovich" And "Gennady Rozhdesvensky".
Condition of the two records is fine. The jacket shows a little shelf wear, particularly on back, but is strong and overall very good.
Signed by both composer and conductor.
Boxed record set (two LPs) containing Shostakovich's Symphony No. 4, Op. 43 and Hamlet Suite, Op. 32a. Signed on front cover by Shostakovich, dated Jan. 12, 1964, and by conductor Gennady Rozhdesvensky, dated Nov. 25, 1968. Russian label (LP fine), with halftone portrait of Shostakovich pasted on front.
Rozhdesvensky, who died in June 2018, was a leading Soviet conductor and close associate of Shostakovich. According to the New York Times obituary for Rozhdesvensky, the conductor "recorded some 786 works" and Schnittke wrote: "I once calculated that there are now some 40 compositions written for Rozhdesvensky—either derived from his ideas or else he was the first to conduct them." He conducted the western premiere of Shostakovich's Fourth Symphony (one of the works in this set) at the Edinburgh Festival of 1962, with Shostakovich attending.
ODA-08877
$1,000