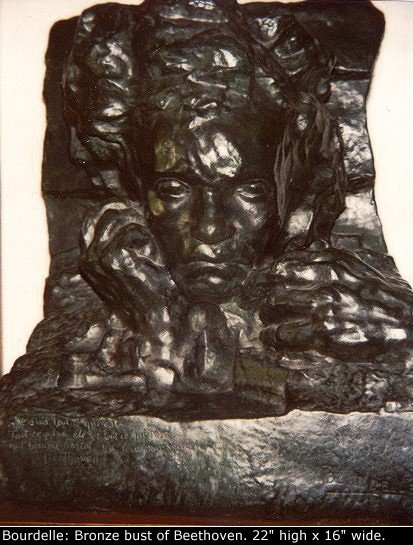 Click Image to Zoom
Enlarge Image
BEETHOVEN BRONZE BUST
Bourdelle, Émile-Antoine
Bronze Bust
06649. 20.5" (52cm) h x 15 ¾"(40cm) w x 12 5/8" (32cm) d. Excellent condition.
Inscription on front at left of base reads:
"Je suis tout de qui est - Tout ce qui a été et tout ce qui sera / Nul homme mortel n'a levé mon voile Beethoven"
Signed "Bourdelle" on lower right of base. "Alexis Rudier Fondeur Paris" stamped on the back.
According to Michel Dufet, whose catalog raisonné was published in his
Le Drame de Beethoven Vécu par Bourdelle,
the bust is known as "Beethoven aux Deux mains" and dates from 1908 when it was produced in granite (now in the Bourdelle museum in Paris), in bronze (our version) and again the same year in bronze but as a variant.
The bust we are presenting is one of ten castings.
Provenance: Michael Gerson/Barnett Fine/Herbert Mayer of World House Galleries. Reference: Dufet, Michel: Le Drame de Beethoven Vécu par Bourdelle. Rouen, 1970. See p. 15 and plates 59-62.
Émile-Antoine Bourdelle was a pupil and assistant of Rodin and is considered one of the pioneers of 20th century monumental sculpture. There are two museums in France devoted to his work, including the Musée Bourdelle in Paris. He made his first of many sculptures of Beethoven in 1888.
ODA-07670
Inquire for Price