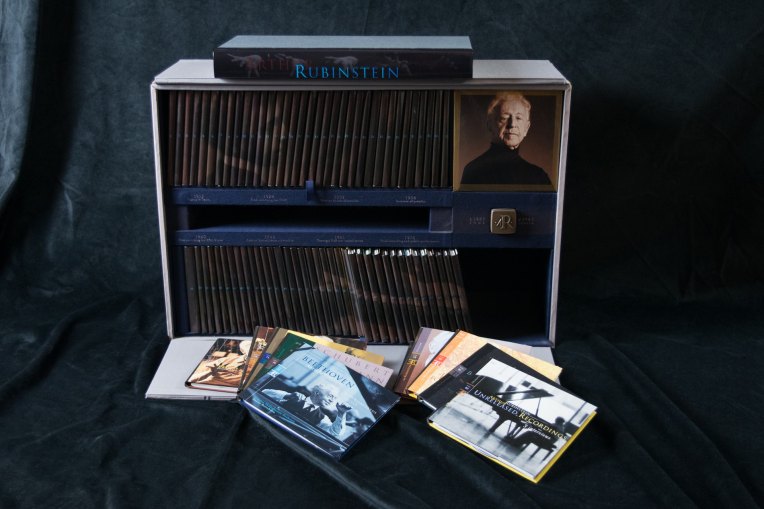 Click Image to Zoom
Enlarge Image
Rubinstein, Arthur
Deluxe CD Box Set - "The Arthur Rubinstein Collection".
1999. Box in excellent condition with only very slight sunning. Mint condition discs and booklets.
Released by RCA in 1999, this out-of-print, limited edition set was produced with the cooperation of Artur Rubinstein's family. The remastering of the discs was overseen by some of Rubinstein's original producers. It contains 94 discs in 82 volumes in a beautiful box of woven grey silk embossed with an elegant line drawing of Rubinstein. The discs themselves are each encased in a glossy hardcover CD booklet with new liner notes and photographs. A specially-commissioned, deluxe 376-page book accompanies the set, with extensive archival photographs and bespoke essays about Artur Rubinstein from his son, his producers, and some of his musical peers, including Daniel Barenboim, Stanislaw Skrowaczewski, Zubin Mehta and Arnold Steinhardt. A truly extraordinary undertaking in the history of recorded sound.
Considered possibly the greatest Chopin interpreter of his time - the New York Times wrote, "Chopin was his specialty ... it was [as] a Chopinist that he was considered by many without peer." - the Polish pianist and child prodigy Artur Rubinstein made his debut at the age of 7 and performed in public for almost 70 years.
EPH-13332
$1,200