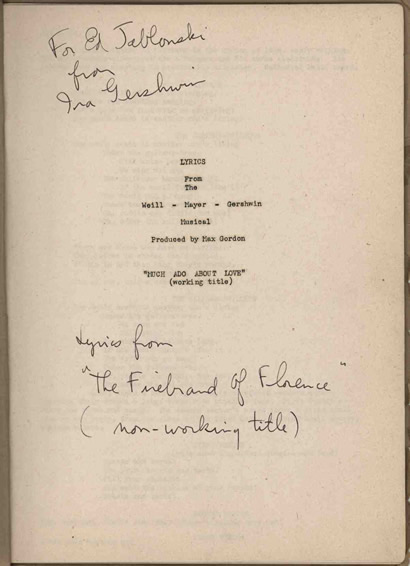 Click Image to Zoom
Enlarge Image
Gershwin, Ira (1896-1983)
The Firebrand of Florence - Lyrics From The Weill - Mayer - Gershwin Musical Produced by Max Gordon "MUCH ADO ABOUT LOVE" (working title)
 Signed and inscribed on the title page: For Ed Jablonski from Ira Gershwin, with the additional note in his hand under the title: Lyrics from 'The Firebrand of Florence' (non-working title). 27 mimeographed pages of the typescript. Together with a copy of the first edition sheet music for the show's song "You're Far Too Near Me", as well as copied excerpts from Gershwin's letters to Jablonski about the show. Brown paper wraps with round sticker on upper left from Rialto mimeographing. Wrap cover is attractive overall but has scotch tape on spine, a small tear on left, and two coffee cup stains. Edges are a little ragged. Internally fine.
Original inscribed typescript for The Firebrand of Florence
The Firebrand of Florence, originally a 1924 play called The Firebrand, was adapted by Ira Gershwin and Edwin Justus Mayer in 1944, with a score by Kurt Weill and sets by Max Gordon. It opened in New York on May 22, 1945 and only ran for 43 performances. Nonetheless, Gershwin himself was not displeased with the work. He wrote in a letter to Ed Jablonski in January 1945: …Kurt Weill has done, I believe, the best job he's ever done - it's a much more rounded score than Lady in the Dark or One Touch of Venus - also it's going to have the best singing I've been connected with since the original Porgy & Bess Company. Naturally lots of things can go wrong before the opening and lots more after, but at the moment we're all pretty optimistic and know we're connected with something worth while doing artistically - and, (this we hope) financially.
In a letter he wrote to Jablonski in April 9 after the first performance, he admitted that the musical got mostly bad notices so it looks as if nine months of hard work has been shot to hell….All I can say is that Weill and I had a most interesting and exciting time working on the score and feel we have done nothing to be ashamed of - in fact we're still rather proud of our contribution.
Edward Jablonski was an important writer on American musical theater whose books include The Gershwin Years. Jablonski had a decades-long correspondence with Ira Gershwin.
BKS-10928
$750