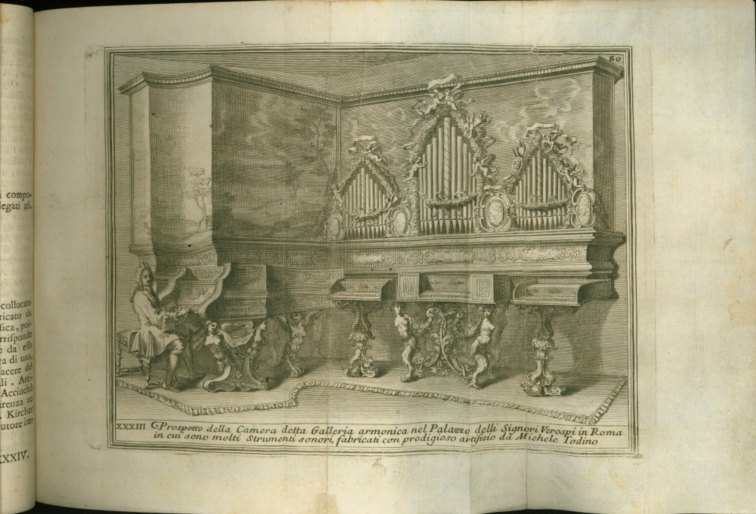 Click Image to Zoom
Enlarge Image
Bonanni, Filippo (1638-1723)
Gabinetto Armonico pieno d'Istromenti Sonori indicati, spiegeti, et di nuovo corretti, et accresciuti
Nella Stamperia di Giorgio Placho, Intagliatore, e Gettatore de'Caratteri a S. Marco: Rome, 1723 [1722].

first edition

, second issue. Small Quarto (9" h x 6.50" w). Half-title frontispiece missing, engraving of King David with harp by Arnold Van Westerhout after Stefano Spargioni, 177 pp. and 152 plates as issued ( including fold-out plate XXXIII). Early 19th-century quarter-mottled calf with marbled boards. A few plates professionally repaired, some faint foxing and toning with occasional light soiling. Despite these imperfections, overall a very nice copy.
Instrument plates: 1-12; 13/14 (one plate); 15-29; extra plate also marked "29" but a different image and instrument, after p. 72; 30-48; extra plate, not numbered, facing p. 94; 49-78; extra plate also marked "78" but a different image and instrument, after p. 118; 79-103; extra plate, not numbered, facing p. 138; 104-148. The four-page "Indice delle materie" appears as pp. 167-170, prior to plate CXXXVII.
Bonanni was an Italian Jesuit scholar of many talents. He developed his own microscopes, was an accomplished engraver and published works on many different subjects, ranging from music to anatomy to shell collecting.
The plates in this beautifully-illustrated and famous book include illustrious known instruments such as the Verospi organ in Rome (the fold-out plate) as well as others that were "highly imaginative". Charming inaccuracies might be forgiven in this early attempt to describe and illustrate every known musical instrument including those from America, Africa, Asia, and the Middle East, most of which the author had never seen.
Because of the collectability of the individual plates, it is increasingly rare to find a good complete copy.
BKS-04668
$7,500