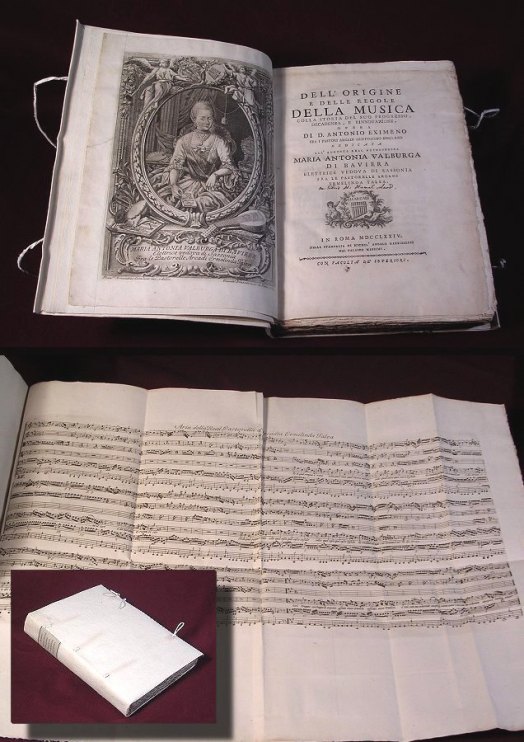 Click Image to Zoom
Enlarge Image
Eximeno Y Pujades, Antonio (1729-1808)
Dell'origine E Delle Regole Della Musical Colla Storia Del Suo Progresso, Decadenza, E Rennovazione.
Michel'Angelo Bariellini: Rome, 1774.

First Edition

. Quarto. 474 pp. 22 plates of music (all pull-outs) and a fine portrait frontispiece of Maria Antonia Valburga of Bavaria. Handsomely bound in modern stiff paper wrappers with leather ties. A very fine copy with original deckled edges; Small, unobtrusive signature of a former owner on title page. Aside from slight browning to title page, a very fine copy.
The Spanish theorist Padre Eximeno was forced to leave Spain with the expulsion of the Jesuits in 1767. He settled in Rome where he published this his first work which, according to Grove VI, " shows a strong bias against contrapuntal rules and against linking music with his former speciality, mathemaics.... Late 19th-century Spaniards rightly considered Eximeno a national hero in his polemical and theoretical battles with Tartini, Cerone, Rameau, Euler and Martini..."
BKS-04627
$1,300