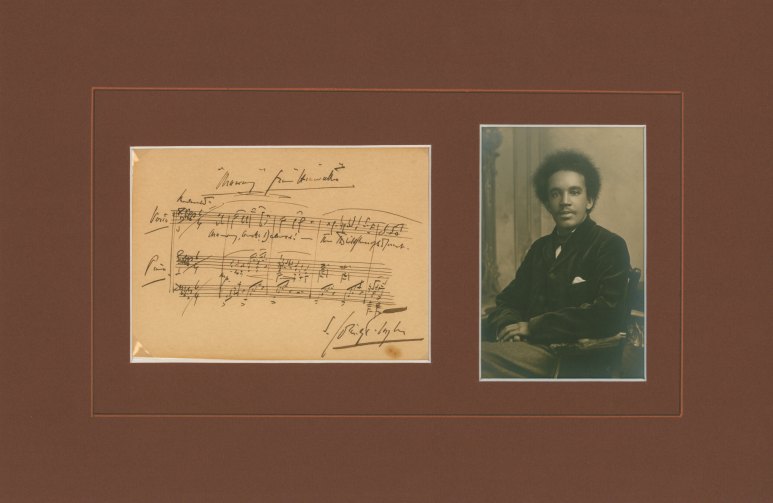 Click Image to Zoom
Enlarge Image
Coleridge-Taylor, Samuel (1875-1912)
Musical Quotation with Sepia Photo
Total size in mat 9.5" h x 14.5" w. Except for one tiny stain well below signature, in fine condition.
Coleridge-Taylor has written out a 5-bar quote from his composition Hiawatha, the composition for which he is best known. Matted with a period postcard photo showing the young composer in a handsome velvet jacket. Autograph material of Coleridge-Taylor is scarce.
Coleridge-Taylor's father was a doctor from Sierra Leone who went back to Africa with young Samuel was very young. He was raised by his English mother and grew up in London, sang in the church choir and studied the violin. He studied composition with Stanford and frequent performances of his music followed. He was also a noted conductor; he held the position of conductor of the Handel Society from 1904 until his early death at age 37 and was described by orchestra musicians in New York in 1910 as "the Black Mahler".
The Song of Hiawatha was originally written in 1899 as a cantata calledHiawath's Wedding, and later arranged by Coleridge as an Overture and later still, as ballet music. It was a time when the cult of the exotic was at a high, with the romance of the red Indian appealing to audiences. Coleridge-Taylor probably identified with the concept of this other minority (he even named his son Hiawatha); according to Groves VI, "his mission in life [was] to help establish the dignity of the black man. He was greatly influenced by the black American poet P. L. Dunbar.. W.E.B. Dubois, Frederick Douglas…..Negro musical ideas permeate his compositions".
AMQ-11309
$850