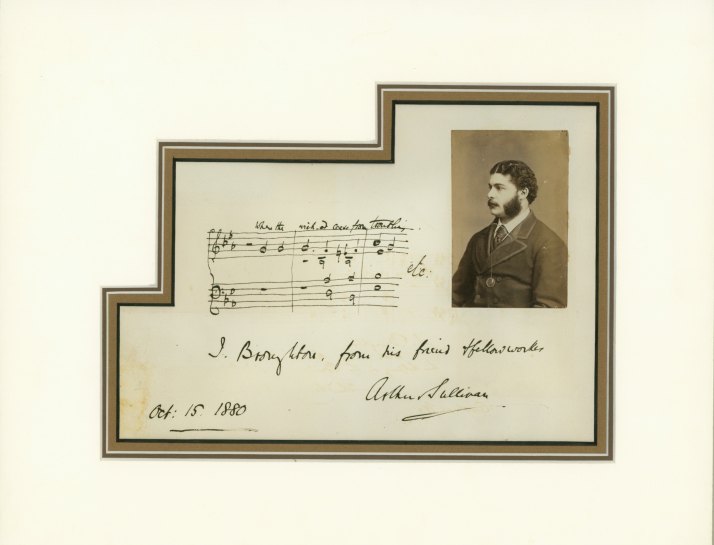 Click Image to Zoom
Enlarge Image
Sullivan, Arthur
Ensemble With Autograph Quotation Signed
"Arthur Sullivan". To "J. Broughton, from his friend and fellow worker". Oct 15, 1880. Elaborately matted with a total size of 12.5" h x 14.75" w. Overall excellent except for some evidence of previous pastedowns on verso & minor spotting on photo.
Three-bar AMQS from The Martyr of Antioch. A fine original carte de visite photograph of the young Sullivan has been laid down on the leaf.
Inscribed to the noted Victorian choral director Alfred Broughton who was the director and accompanist of the Leeds Festival. Leeds has historically been one of the most active centers of music in England. This quotation is from an album originally owned by the Irish composer Michael Balfe and subsequently by Broughton. Sullivan was appointed conductor of the Festival in 1880 and the date on the leaf is in fact the premiere of
The Martyr of Antioch
.
During the years when Sullivan was conductor, "the Leeds Festival assumed international status on account of both the quality of the chorus and the new works commissioned from such composers as Raff, Dvorak, Massenet, Humperdinck, Parry, Stanford, Elgar and Sullivan himself.....At the 1880 festival the progress of science was marked by the lighting of the town hall for the first time by electricity and - even more - by the transmission of some of the performance to neighbouring towns via land-line by the National Telephone Company." (Grove VI)
AMQ-08060
$2,250