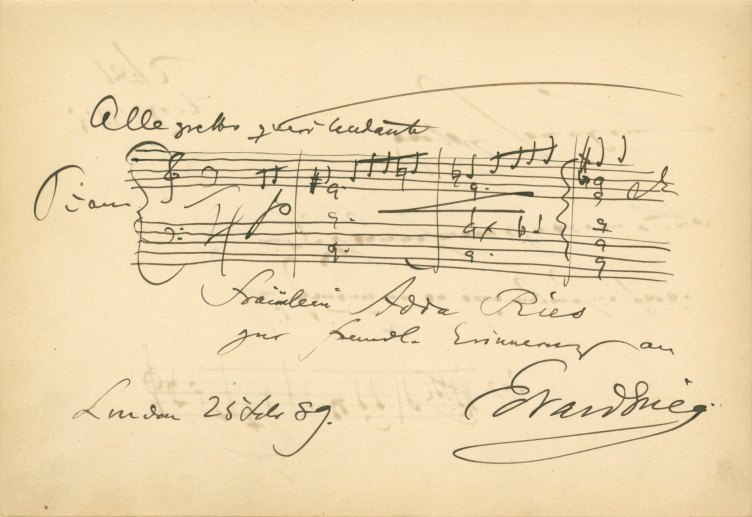 Enlarge Image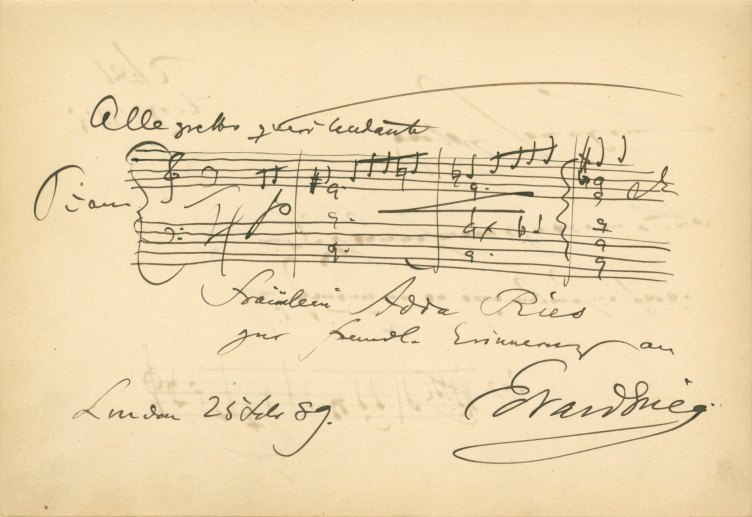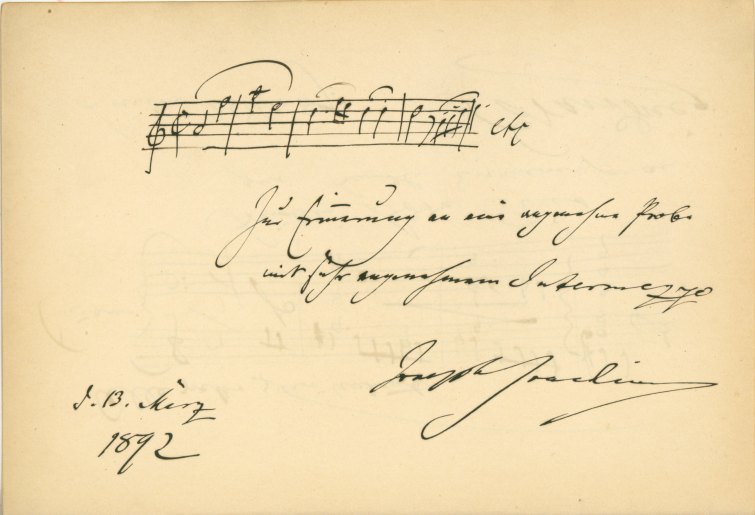 GRIEG AND JOACHIM AUTOGRAPH MUSICAL QUOTATIONS
Keith Prowse & Company
Album Leaf Signed
"Edvard Grieg" and "Joseph Joachim". 6" h x 8.5" w. Two sides of an album leaf. Excellent condition (minor sunning around edges and slight bleed-through).
An impressive double-sided sheet with autograph musical quotations from the two nineteenth-century greats Edward Grieg and Joseph Joachim.
On the recto, Grieg offers three bars of a piano piece in three-quarter time, inscribing it in German to Fräulein Adda Ries with fond memories from Edvard Grieg and dating it London, 25 February 1889.
On the verso, Joachim offers the opening four bars of the first violin part of Brahms's String Quartet, Op. 51, No. 2, which employs Joachim's personal musical acrostic "F-A-E" for frei aber einsam ("free but lonely"). Joachim fondly writes: In memory of a pleasant rehearsal and a very pleasant Intermezzo, Joseph Joachim. It is dated 13 March 1892.
Both of these quotations are evidently from an album kept by Adda Ries, whom one assumes to be a member of the well-known family of musicians, although we have not been able to trace it. Possibly she was the daughter of Louis Ries, a violinist of some stature who frequently performed with Joachim.
AMQ-01585
$3,000