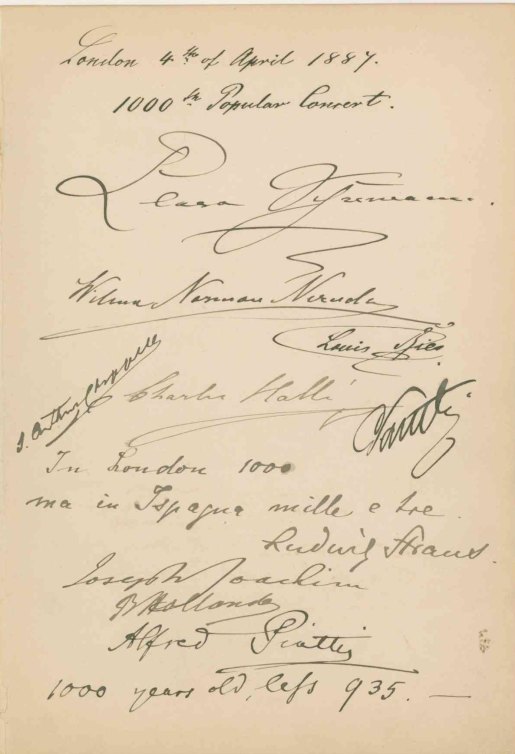 Enlarge Image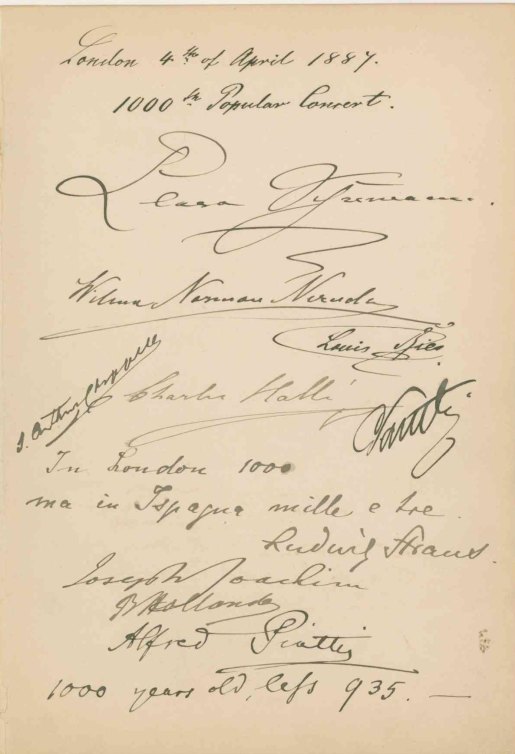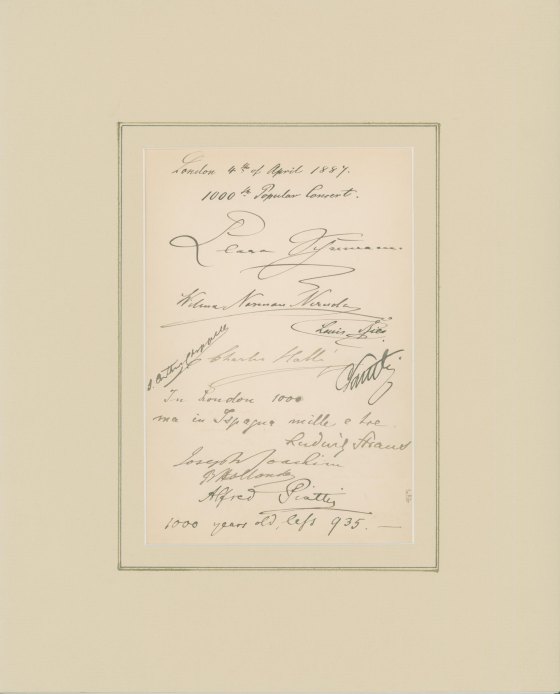 LONDON POPULAR CONCERTS, 1,000TH - SIGNED LEAF
London, April 4, 1887. Total size in mat: 14.25" h x 11.25" w. 1 p. In excellent condition.
A notable moment in music history - with signatures headed by Clara Schumann.
An album leaf dated April 4, 1887, bearing the signatures of participants in the 1,000th London Popular Concert, including pianists Clara Schumann and Charles Hallé, violinists Joseph Joachim, Wilma Norman-Neruda, Louis Ries, and Gustav Hollander, violist Ludwig Straus, cellist Alfredo Piatti, and baritone Charles Santley.
Arthur Chappell, the director of the concert series (and son of the series' founder, music publisher William Chappell) has also signed at the left.
Two signatures are worth highlighting for their brief but comic inscriptions: first, violist Ludwig Straus cutely writes: In London 1000, ma in Ispagna mille e tre, referencing Leporello's "Catalogue Aria" from Don Giovanni; second, Alfredo Piatti signs 1000 years old, less 935, referencing his own age (65) in 1887.
Publishers Johann Baptist Cramer and William Chappell joined forces in 1858 to build St. James' Hall in Piccadilly, hoping to provide a sorely needed venue in central London for a growing musical middle class with an insatiable appetite for concerts. Chappell inaugurated a series of Monday Popular Concerts there the following year; these proved so popular that a Saturday series followed in 1865. Both series continued, with only minor interruptions, through 1904.
The Monday concerts were held in the evening and the Saturday concerts in the afternoon. Programs were almost exclusively classical and offered by the foremost soloists of the day, as evidenced by the signatures on this sheet. George Bernard Shaw credited the series with elevating musical taste in England.
ALS-15551
$1,000