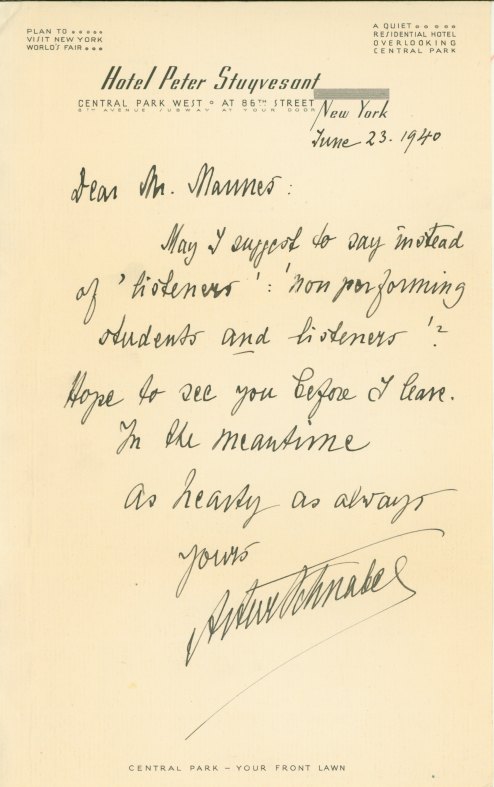 Enlarge Image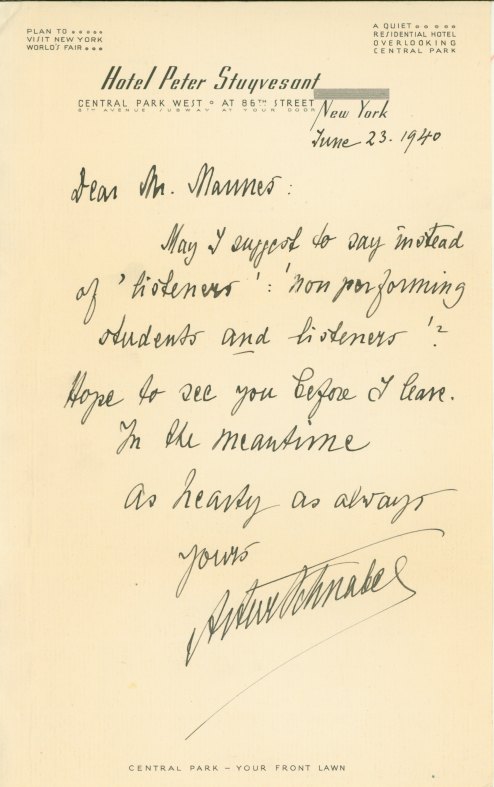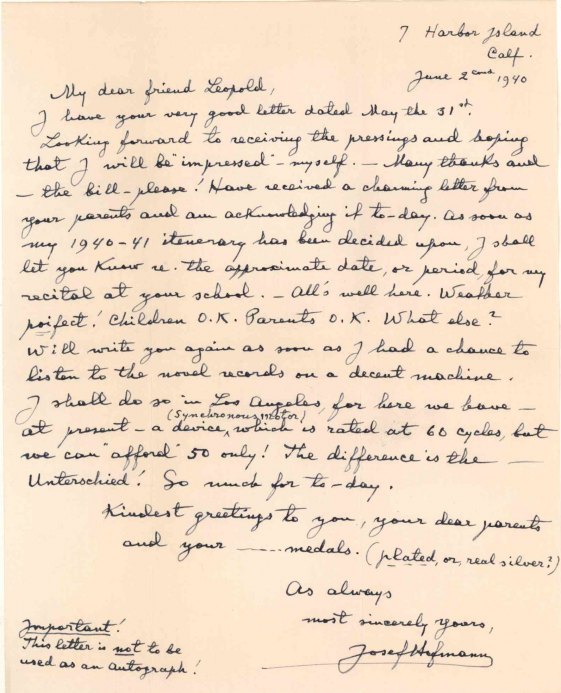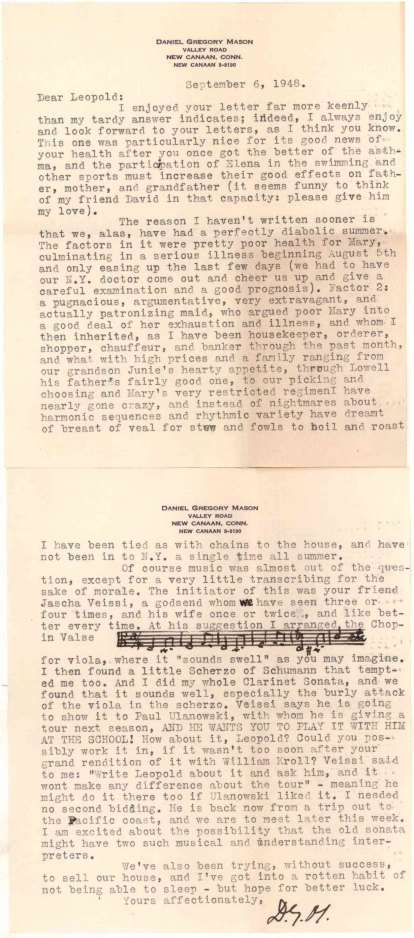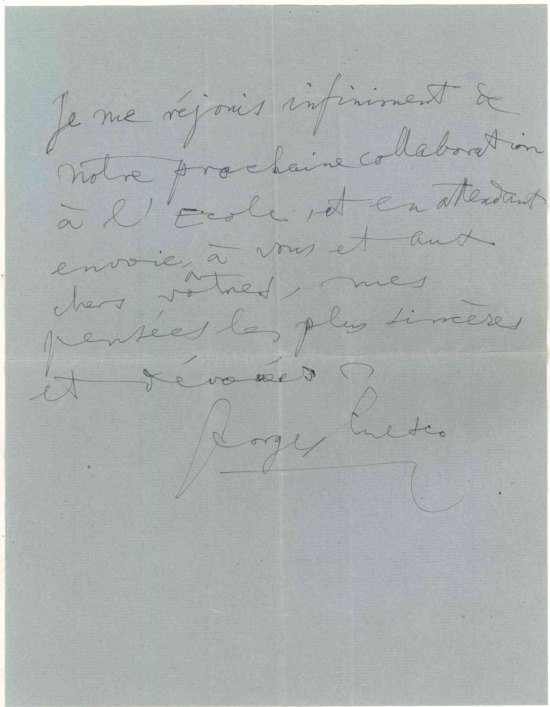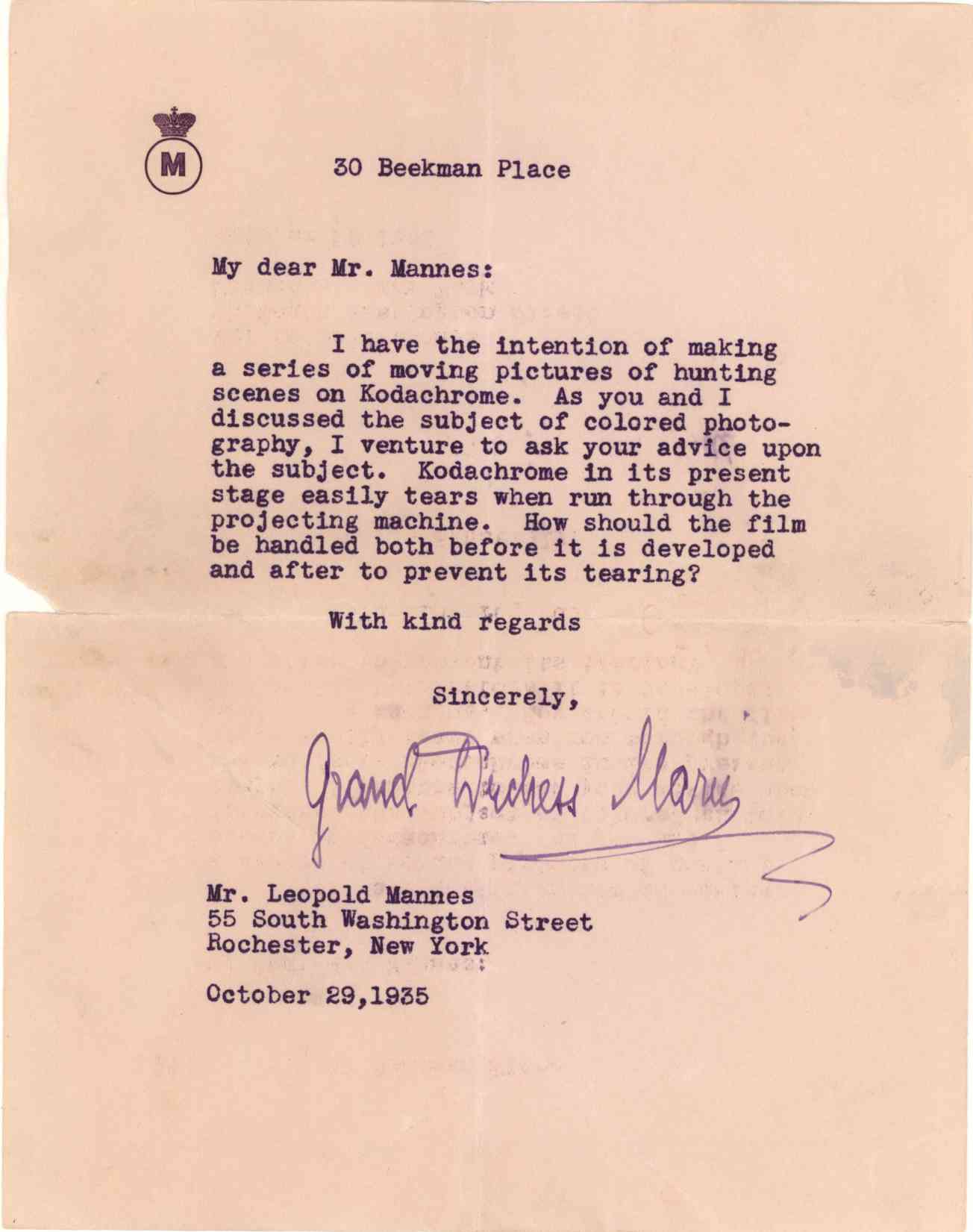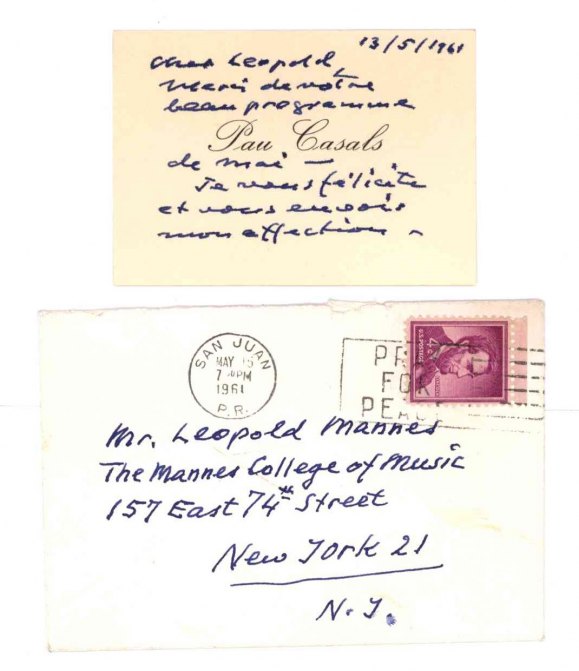 MANNES - IMPORTANT MUSICAL CORRESPONDENCE 1921-1954
Mannes, Leopold (1899-1964)
Correspondence to Leopold Mannes
1921-1954. The group of 37 in excellent condition overall, except for the usual folds and a few chips here and there.
A large and important correspondence with good musical content.
The letters are all to Leopold Mannes (1899-1964), the pianist, educator, and President of the Mannes College of Music (founded by his parents), as well as the co-inventor, along with fellow musician Leopold Godowsky, Jr., of the Kodachrome color process for cinematography and still photographs. Mannes was the nephew of the famous conductor Walter Damrosch and of the composer Frank Damrosch and himself a highly influential figure in America's musical life.
The group contains letters from the following senders:
Daniel Gregory Mason. Two ALS; seven TLS. 1926-1952. A close friend of Mannes, Mason writes with personal news, professional updates, and proposals for musical rendezvous and collaborations. There are some references to his own music, including this interesting passage from a letter of 1927: I am interested above all in my new overture now, as it is just in the sketch stage where you see that it is going to come off, and you foresee what fun you are going to have orchestrating it, and every day brings interesting problems, and many days little successes that feel quite like big ones if you don't analyze them too closely. Whether I shall get it done in time for Furtwaengler is another question.
Artur Schnabel. Three ALS (with one envelope). 1940, 1949. Schnabel conveys his happiness that Mannes has returned to music making (presumably following Mannes's endeavors with Kodachrome). One of the letters contains a very complimentary postscript: By the way, I heard you once during my darker days perform Rachmaninoff Paganini Variations -- it was perfect playing and as musical as it allows.
Leopold Godowsky, Sr. One ALS. n/d. A friendly letter from the accomplished pianist providing the details of his upcoming performance schedule and speculation on the whereabouts of Leopold Godowsky, Jr. (Mannes's Kodachrome partner).
Georges Enesco. Four ALS, all signed Georges Enesco: one completely in Enesco's hand; one in Enesco's hand with brief note by Mrs. Enesco (with envelope); one in Mrs. Enesco's hand with brief note by Enesco (with envelope); one completely in Mrs. Enesco's hand. 1950-1954. The violinist writes on a variety of topics in English and French, and includes an account of his son's harrowing escape from communist Romania. He also agrees to meet Mannes's friend, the noted photographer Yousuf Karsch: I will try to shave decently and to put on a collar for his amiable visit.
Rosario Scalero
. Six ALS (with one envelope). 1921-1950. The violinist describes himself as Mannes's
old teacher and friend
and sends updates on various musical and personal affairs, including plans for a new book on the destructive impact of atonality in modern music. His fondness for Mannes is evident throughout:
To young people like you, a splendid future is open, I am sure, if you will fight the adequate struggle for it. You are better prepared than other young people, for you have a scientific habit of mind: the power to direct fantasy into concreteness.
Pablo Casals. One signed visiting card, with original envelope. 1961. Casals writes in French to offer his congratulations on a recent performance.
Josef Hofmann. Seven ALS; one TLS. 1940. The eminent pianist is writing to plan a recording experiment with Mannes in the spring of 1940. Hofmann had the idea to disconnect the loudspeakers [of Mannes's electronic upright piano] and connect the output of the piano amplifier directly to the cutter of [Mannes's] recording machine…do away entirely with a mike and record the vibrations of the piano strings directly. Hofmann writes about comparing the "electronic" record on a Magnivox to the same record on the same kind of machine but supplied with A.C. at Steinway Hall. Hofmann expounds throughout in great detail about how he thinks records should be made. He notes their mutual interest in recording technology and looks forward to receiving the pressings and hoping that I will be "impressed" myself. He evidently was pleased with the results of their experiment, playfully writing in the final letter that the new recording system of course is "Zukunftsmusik."
Walter and Margaret Damrosch. One CDV. n/d. A brief handwritten note of thanks signed Margaret and Walter, likely in Margaret's hand. Stapled to letter from Frank Damrosch, Jr. (see below). Walter Damrosch, the celebrated conductor, was the brother of Mannes's mother, Clara.
Frank Damrosch, Jr. One TLS. 1948. A note to thank Mannes (his cousin) for a print of an oceanic scene. Frank Damrosch, Jr. was a noted priest and author and the son of composer Frank Damrosch.
Thomas Hart Benton. Two ALS. 1951, 1954. Benton, a noted American muralist, writes after having read a paper by Mannes on tonality and looks forward to discussing the subject with him in person. He also jots a quick note about the loaning of an unidentified portrait.
Grand Duchess Maria. One TLS. 1935. The royal writes to ask about the fragility of Kodachrome, she is planning to make a series of moving pictures of hunting scenes but Kodachrome in its present stage easily tears when run through the projecting machine. How should the film be handled both before it is developed and after to prevent its tearing? This is almost certainly the Russian Grand Duchess Maria Pavolvna, who escaped revolutionary Russia in 1918 and spent the 1930s working for Bergdorf Goodman.
ALS-15322
$4,500